03 Sep

WSC Personnel Receive CPR/AED Training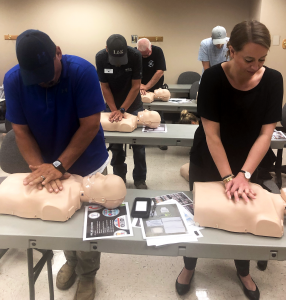 WILLISTON, N.D. – To help round out In-Service week, 42 Williston State College employees became First Aid/CPR/AED (Automatic External Defibrillators) certified by the American Heart Association on August 22 and 23.
The course was led by WSC Nursing Instructor Lynn Douglas MSN, RN, a licensed American Heart Association Instructor.
Faculty and staff completed hands-on training that tested their knowledge in seven topics: first aid; medical emergencies; injury emergencies; environmental emergencies; opioid overdose; CPR and AED; and how to prevent illness and injury.
"Dr. Miller first approached me in 2017 and asked if I would be willing to offer this course to WSC employees," explained Douglas. "Again, I was overwhelmed with the number who signed up this year. This is a great opportunity to help make WSC an even safer campus."
In 2016, the CHI St. Alexius Health Williston Foundation received funds to award AEDs to recipients in Williston, including WSC.
Six AEDs are located across WSC's campus and can be found in Stevens Hall, the Donn Skadeland Gym and the Well, Western Star, and the Crighton Building.
As the Site Coordinator, Douglas monitors each AED monthly by inspecting the cabinet, door alarm, consumables, batteries, and electrode pads. Douglas also uses an AED management program, Plus Trac AED Management Tracking, that ensures AED program guidelines are followed by sending notifications/alerts for monthly compliance.
"We continue to support our faculty and staff being trained in CPR and AED use as part of an ongoing initiative for a healthier and safe campus," stated Dr. John Miller, President of WSC. "By offering the training during our annual August in-service activities we maximize the training opportunity as we strive to maintain our goal of having half of faculty and staff certified in CPR/AED."
Miller and Douglas both stressed the importance of how every second counts and having qualified employees to handle life threatening emergencies increases the chances of a positive outcome.
Each certification last two years and covers emergency care to adults, children, and infants.
For Douglas to remain a licensed American Heart Association Instructor, she must attend continuing education every two years and hold at least four classes each two-year timeframe.
For more information on this story, please contact Lynn Douglas at 701.774.4597 or lynn.douglas@willistonstate.edu.
For more information, please visit www.willistonstate.edu, call 701.774.4200, or stop by 1410 University Avenue, Williston, ND.