10 Sep

WSC Foundation Celebrates 2nd Annual Alumni Week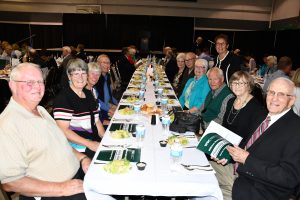 WILLISTON, N.D. – Beginning next week, the Williston State College Foundation will celebrate the many men and women who have made WSC great with its 2nd Annual Alumni Week.
On Monday, September 16, a banquet honoring outstanding alumni and former faculty and staff will be held in the Donn Skadeland Gymnasium.
The evening begins with a social at 5:30 p.m. followed by an awards dinner at 6 p.m. The following Tetons will be recognized with individualized plaques:
Outstanding Alumni
Ray Anderson
Toni Bell
Bev Conway
Jim Duffey
Claire Folvag
Pat Hatlestad
Georgina Linghor
Terry Oxendahl
Medrein Sandvold
Nancy Wisness
Outstanding Former Faculty & Staff
Coke Aafedt
Joan Amsden
Darlain Atol
Jerald Basol
Fay Halvorson
Carol Jodock
Phil Rabon
Joyce Smith
George Solberg
Lyle Sorum
Garvin Stevens
Linda Tharp
Arlene Tvedt
This event is open to the community, but it is recommended that you RSVP by Thursday, September 12 to Hunter Berg, Alumni Association Director.
"Our Outstanding Alumni and Former Faculty and Staff Banquet is a great event," stated Berg. "It is enjoyable to see old classmates get together, share stories, and laugh. Our former faculty and staff are nothing short of amazing. The length of their employment and the impact they made on our campus and its students can't be overstated as building blocks of our college. It's a great honor to recognize and thank them for all they've done."
On Wednesday, September 18, a free-will donation BBQ will be held in the WSC Front Drive from 11:30 a.m. to 1 p.m.
Hamburgers, chips, cookies, and drinks will be served. Meals can be enjoyed on the front lawn or if time is short, taken to go via the drive thru.
In the event of poor weather, this event will move into the Well.
To round out Alumni Week, Thursday, September 19 is WSC's dedicated Giving Day.
All donations on Giving Day will be matched twice-over by the WSC Foundation and the goal is to reach 1,000 donors.
Last year, over $26,000 dollars was donated which when matched by the WSC Foundation, equaled $75,000 dollars raised.
Donors can choose their preferred area of support and can include scholarship endowments, athletics, academic programs, etc.
Individuals can give directly by visiting wscfoundation.com and clicking "Give Today;" calling 701.572.9275 to make a pledge; texting a pledge to 701.220.8445; dropping off a check at the WSC Foundation Office (next to the Williston DMV); or mailing a check, payable to the WSC Foundation, to PO Box 1286 Williston, ND 58802-1286.
"Giving Day was a great success last year and we hope to grow the concept this year," explained Berg. "Many areas at WSC need support to continue to improve; we hope our donors help identify with an area that they feel strongly about. Our college is a great asset to our community, and we look forward to being a helping hand as the college continues to educate our students."
For more information on Alumni Week and its events, please contact Hunter Berg at 701.572.9275 or hunter.berg@willistonstate.edu.
For more information, please visit www.willistonstate.edu, call 701.774.4200, or stop by 1410 University Avenue, Williston, ND.