14 Dec

Rob and Melani Walton Foundation makes historic gift to secure future of DSU's Theodore Roosevelt Center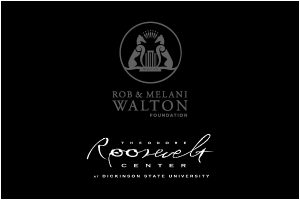 The DSU Heritage Foundation and Dickinson State University (DSU) announced Tuesday, Dec. 14 a $10 million gift from the Rob and Melani Walton Foundation to support the Theodore Roosevelt Center (TRC), dedicated to making the life, legacy, and enduring relevance of Theodore Roosevelt accessible to all.
The grant, the largest-ever gift to the DSU Heritage Foundation and the largest in the university's history, will provide operating support for TRC, including expanded digitization and archiving efforts of Theodore Roosevelt related materials, assisting scholars with reference questions, further development of the TRC website and other digital communications, and programming and education for K-16 classrooms. In addition, the gift will establish a new chair position to facilitate the study of the life, achievements, legacy, and historical reputation of Theodore Roosevelt, and serve to promote the TRC, DSU, and Theodore Roosevelt scholarship nationally and globally.
"We appreciate the rare opportunity to both enhance our students' education and offer a gift of learning to the world, and we couldn't be more energized to continue this important work," said DSU President Steve Easton. "This generous gift from Rob and Melani Walton provides long-term financial stability and the ability to realize our vision for the Theodore Roosevelt Center."
Since its launch in 2009, the Theodore Roosevelt Center has digitized over 70,000 Roosevelt-related items providing immediate access to anyone with an internet connection. Led by project manager Sharon Kilzer, TRC also hosts an annual symposium featuring acclaimed speakers and authors while attracting thousands of visitors and scholars from all over the world. TRC also provides programming and support to scholars of all ages learning about Theodore Roosevelt.
"Ensuring the lessons we can learn from Theodore Roosevelt are accessible to everyone inspires future generations to get 'into the arena' and solve the challenges we face today as a collective, global community," said Melani and Rob Walton. "We're filled with gratitude to support DSU in realizing its expanded vision for the Theodore Roosevelt Center, which began over a decade ago."
The Rob and Melani Walton Foundation and DSU have a long relationship. Melani Lowman Walton hails from a family of proud Blue Hawks. She is a Dickinson State University alumna, Hall of Fame member, and a stand-out athlete in basketball and track and field. She grew up in eastern Montana near the North Dakota border and has been visiting Medora and the Theodore Roosevelt National Park since childhood.
"This has been a legacy project from the very beginning, and one that sets DSU and our community apart as the national leader in preserving important lessons from TR's life," said Senate Majority Leader Rich Wardner, R-Dickinson. "I'm proud of the legislature's long-time support of this work and the generosity of the Rob and Melani Walton Foundation in making this important milestone for the Theodore Roosevelt Center a reality."
Wardner played a key role in organizing legislation to ensure long-term financial support for the digitization of the presidential archive at Dickinson State University. The gift from Rob and Melani Walton announced today was provided through the Theodore Roosevelt Presidential Library Foundation and solidifies a long-term relationship with the Dickinson State University Heritage Foundation and Theodore Roosevelt Center for the digitization of the Theodore Roosevelt presidential papers.
DSU plans to share more about the future of the project in celebrating the re-opening of Pulver Hall in 2022 where renovation plans include providing the Theodore Roosevelt Center a permanent place to call home.