The State Board of Higher Education is the policy-setting and advocacy body for the North Dakota University System and the governing body for North Dakota's 11 publicly supported colleges and universities. The SBHE also oversees the NDSU Extension Service and Agricultural Research Stations, Northern Crops Institute, State Forest Service and the Upper Great Plans Transportation Institute.
The SBHE is made up of seven citizen members appointed to four-year terms by the governor and one student appointed by the governor to serve a one-year term. The Council of College Faculties selects the board's non-voting faculty advisor, and the NDUS Staff Senate selects the board's non-voting staff advisor.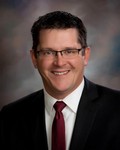 Nick Hacker
Chair
Term: 2015-2023
Subcommittees: Governance; Challenge Fund Grant Review
Nicholas P. Hacker began his term of service with the State Board of Higher Education July 1, 2015. He was reappointed for a second four-year term starting July 1, 2019.
Hacker has served as the president of the North Dakota Guaranty and Title Company in Bismarck, N.D., for three years. There he leads the state's largest title insurance and real estate closing company with 100 employees across 10 locations.
Prior to his current role Hacker worked as the state government affairs manager for the American Land Title Association and the business development manager for Marcil Group, Inc. In 2004 he made history by being the youngest person elected to a state senate where he served North Dakota's District 42 for four years.
A native of Bismarck, N.D., Hacker holds a Bachelor of Business Administration in managerial finance from the University of North Dakota. He holds a certificate in legislative leadership from Bowhay Institute. He has held membership in the Rotary Club of Williston (past secretary), American Land Title Association, N.D. Land Trust Association, Greater N.D. Chamber of Commerce, N.D. Association of Builders, N.D. Association of Realtors, N.D. Bankers Association, and Independent Community Banks of North Dakota.