12 Feb

NDSU to celebrate Darwin Days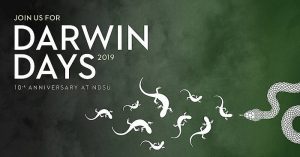 NDSU is set to host Darwin Days activities Thursday, Feb. 14, and Friday, Feb. 15. The two-day event is sponsored by the Departments of Biological Sciences and Geosciences, the College of Science and Mathematics and NDSU Cooperative Sponsorship.
A pop-up museum is scheduled for Thursday, Feb. 14, from 1 p.m. to 5 p.m. in the A. Glenn Hill Center atrium. It will feature hands-on, interactive exhibits with specimens from biological sciences, geosciences, entomology, plant physiology and anthropology.
The pop-up museum continues Friday, Feb. 15, from 10 a.m. to 3 p.m.
Darwin's Birthday Celebration with cake and music is set for later that afternoon at 3:30 p.m. in the A. Glenn Hill Center atrium.
A keynote address, titled"Poisonous Newts and the Snakes that Eat Them: Convergence and Constraint in a Coevolutionary Arms Race," byEdmund D. Brodie IIIof the B.F.D. Runk Department of Biology at the University of Virginia, is scheduled to follow at 4 p.m. in A. Glenn Hill Center room 112.
As a student-focused, land grant, research university, we serve our citizens.