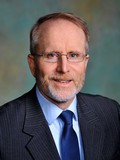 Mark R. Hagerott, Ph. D.
Chancellor
Dr. Mark R. Hagerott is Chancellor for the North Dakota University System.
Prior to his move back home to North Dakota, Dr. Hagerott served on the faculty and held numerous academic leadership roles at the United States Naval Academy. He also served as a planning and strategy director in one of the largest U.S. Army educational organizations, NATO Training Mission, which included the Afghanistan army, police, air force, and medical school programs. Hagerott served as distinguished professor and deputy director of the Center for Cyber Security Studies at the Naval Academy and served on the Defense Science Board summer study of unmanned systems 2014-2015. He is a commissioner on the Midwestern Higher Education Compact, and Western Interstate Commission for Higher Education. Hagerott chaired the Secretary of the Navy's Education Reform Task Force in 2022.
Chancellor Hagerott's research and writing are focused on the evolution of technology, education, and changes in technical career paths, and he is the author of multiple articles and book chapters, with a recent emphasis on unmanned systems. He served as a non-resident cyber Fellow of the New America Foundation, 2015-2017.
Prior to his transition to an academic career path, Hagerott held numerous leadership positions in the U.S. Navy, both aboard ships and in administrative positions in the Department of Defense. A certified naval nuclear engineer in power generation and distribution, he served as chief engineer for a major environmental project defueling of two atomic reactors. Hagerott also ran tactical data networks for the Navy and rose to ship command prior to his career in higher education. He also served in both Bush administrations, as a White House Fellow in the first Bush administration; and in the office of the Deputy Secretary of Defense in the second Bush administration.
Hagerott holds a B.S. from the U.S. Naval Academy, an M.A. in political science and economics from Oxford University where he attended as a Rhodes Scholar, and a Ph.D. in history from University of Maryland.
The chancellor hails from a multi-generation North Dakota family of farmers and energy producers. The Hagerott-Brandenburg family homesteaded in Center and Mandan before statehood, where his father continues work on the fourth-generation farm, and his mother's family came with the first Bakken oil boom.
E-Mail: mark.hagerott@ndus.edu
STAFF