The State Board of Higher Education is the policy-setting and advocacy body for the North Dakota University System and the governing body for North Dakota's 11 publicly supported colleges and universities. The SBHE also oversees the NDSU Extension Service and Agricultural Research Stations, Northern Crops Institute, State Forest Service and the Upper Great Plans Transportation Institute.
The SBHE is made up of seven citizen members appointed to four-year terms by the governor and one student appointed by the governor to serve a one-year term. The Council of College Faculties selects the board's non-voting faculty advisor, and the North Dakota State Staff Senate selects the board's non-voting staff advisor.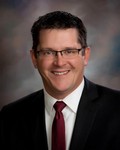 Nick Hacker
Chair
Term: 2015-2023
Subcommittees: Audit.
Nick Hacker serves as President/CEO of North Dakota Guaranty and Title Co. Founded in 1955, NDGT is the North Dakota's largest title insurance and real estate closing company with operations in North Dakota, Montana, Minnesota and Wisconsin. Nick continues to drive new growth through strategic partnerships, acquisitions and leadership development within his team.
Before joining North Dakota Guaranty and Title, Nick spent three years in Washington, DC working in Government Affairs. Prior to his time in Washington, DC he spent five years as a business development manager in the Red River Valley focused on real estate development.
Nick served in the North Dakota State Senate from 2004-2008 in District 42. During his tenure, Nick vice-chaired both the Political Subdivisions and Industry Business and Labor committees. He received a Bachelor of Arts degree in Managerial Finance and Real Estate from the University of North Dakota in 2005.
His passion for service continues through his leadership in numerous organizations including; as Chair of the North Dakota State Board of Higher Education, Stewart Title Insurance Agency Advisory Board, Greater North Dakota Chamber Board, Delta Tau Delta Education Foundation, and several committees of the American Land Title Association.