12 Mar

VCSU student Lauren Roscoe making a difference nationally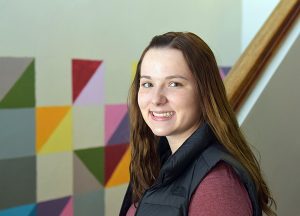 Lauren Roscoe is not your typical Valley City State University first-year student. Sure, she's an elementary education major, like many others at VCSU, but Lauren also serves as the 2018-19 National Student of the Year for SADD—Students Against Destructive Decisions—a national organization with 10,000 chapters across all 50 states (and several U.S. territories) headquartered in Washington, D.C.
SADD aims to help "young people make positive decisions that advance their health and safety" by empowering them "to successfully confront the risks and pressures that challenge them throughout their daily lives." SADD tackles this mission through peer-to-peer education on issues such as traffic safety, mental health, suicide, violence, and tobacco, alcohol and drug use.
As National Student of the Year, Lauren serves as president of SADD's National Student Leadership Council and as the organization's national spokesperson, carrying SADD's advocacy message across the country. She has traveled to Arizona, Georgia, Tennessee, Pennsylvania, New York and Washington, D.C., among others, and attended events such as the national conference of the Governors Highway Safety Organization held in Atlanta in August 2018. Lauren also serves on SADD's board of directors and attends that group's quarterly meetings.
All of that travel makes her a frequent flyer—usually once a month—out of Hector International Airport in Fargo, but otherwise Lauren claims she's "still a normal student" who enjoys "just hanging out with friends, sitting and talking, or watching movies."
The SADD staff helps her arrange the many travel logistics, and the organization pays her expenses, but Lauren volunteers her time to the organization she's served since joining in seventh grade at New Rockford-Sheyenne School in New Rockford, N.D. She did receive a $1,000 scholarship when chosen as National Student of the Year, but for Lauren, "the real benefit comes in knowing that the work I do is helping save lives," she says.
Lauren came to VCSU because of the strong reputation of its elementary education program; "I always wanted to be a teacher," she says. In addition to her coursework in that program, she's also running sprints and middle distance on the VCSU Viking track team.
Her work with SADD is certainly helping hone Lauren's leadership skills, including advocacy ("standing up for yourself" in her words), professionalism ("how to carry yourself in a specific setting") and time management ("how to balance everything"). She'll have an opportunity to put them to use this coming summer in an internship at the National Highway Traffic Safety Administration in Washington, D.C.
Until then, she'll have plenty to do in class and on the track at VCSU while simultaneously carrying out her SADD duties.
Lauren Roscoe is clearly making a difference in the world with her good work on behalf of SADD; we're proud to have difference makers like Lauren at VCSU.