18 Mar

First WSC Women in I.T. Workshop a Success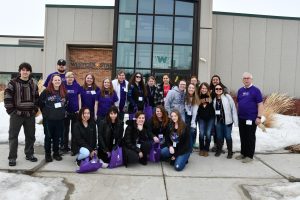 WILLISTON, N.D. – Williston State College hosted its first Women in I.T. (Information Technology) Career Exploration Day workshop on Wednesday, March 13 from 8:30 a.m. to 3 p.m. in the Western Star (CTE) building.
The workshop was geared toward high school women to increase their awareness of the job opportunities and skills needed to pursue a career in Information Technology.
Fourteen juniors from Ray, Trenton, and Williston High schools participated in the workshop.
Current students and former graduates of WSC's Information Technology program facilitated various hands-on activities.
"We had a ton of fun helping the girls learn about networking and wiring in our sessions," said Networking presenter Kacey Peterson, the IT Specialist for Williston Public Schools. "Watching these young women get into the spirit of competition and see who could make working wires the fastest or could make the shortest ones was great!"
Other breakout sessions included HTML & Python and Linux/Pi-Top.
"It seemed like many of the students were experiencing programming for the first time, but I was astonished at how quickly they took to it," reflected Python presenter Valerie Hagen, a WSC alumna. "Hopefully the workshop helped them realize that there is a place for women in technology fields and that they have talents that can contribute and be appreciated in those fields."
The day concluded with a special session on cybersecurity and automation presented by Ken Quamme, Professor of Information Technology at WSC, and Jim Gibson, Electronics Program Coordinator at Illinois Valley Community College.
"With the only constant in automation being change, the focus on life-long learning is paramount," stated Gibson. "The Women in I.T. workshop tapped into this and helped fulfill WSC's mission statement. The participants seemed to love it and they learned some very marketable skills."
This pilot workshop was possible thanks to a Non-Traditional Grant received through the North Dakota Career and Technical Education Department.
"The Women in I.T. workshop was a fantastic success for a number of reasons," explained Quamme. "We had dynamic and energetic young participants. We had wonderful female alumnae and current students present on various technologies. And last but not least, we had a solid team of WSC personnel who helped organize the event and bring it to fruition."
"This is just the beginning," stated Quamme.
WSC will host future day activities along with summer camps for students interested in learning more about the current and future opportunities available in Information Technology, Automation, and the Internet of Things (IoT).
For more information on this event, or future camps, workshops, and trainings, please contact Ken Quamme at 701.774.4207 or ken.quamme@willistonstate.edu.