22 Mar

Brooks: An inquiring mind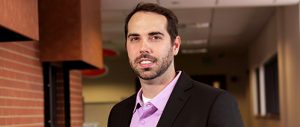 Michael Brooks took an unorthodox path to his current role as director of academic assessment at Minot State.
The Florida native received his undergraduate degree from a bible college and two master degrees from a seminary before obtaining his Ed.D. — a doctorate in education that focuses on applying research to improve practices in an institution.
While his doctorate may serve as the crux for Brooks' job, the importance of his earlier education can't be overlooked.
"My undergraduate and graduate experiences really gave me a feel for how to value people, especially when you're working with them. How to value what they do, how to be an active listener, and how to be a partner with them," said Brooks.
That partnership is something he looks forward to cultivating on campus. Brooks has previously worked in higher education roles as an institutional effectiveness associate and data analyst and in academic support.
"I have been on the faculty side of the house and on the staff side of the house," said Brooks. "I've done those simultaneously, which has been valuable for understanding the dynamics of higher education."
As director of academic assessment, Brooks strives for balance on campus while collecting and discerning information.
"Balance is an important principle, especially in a multifaceted institution like a university," said Brooks. "Assessment is a tool that can help faculty and staff prioritize and balance strategic improvements. It is used to help faculty or staff make decisions based on data as best as they can and lead them towards actionable decisions or solutions. Assessment is focused upon continuous improvement."
Prior to making the move to Minot this past fall, Brooks, his wife, Rashele, and their children lived in east Tennessee.
"Quality of life is important to us and has definitely improved since our move. It isn't anything specific, it's just that Minot is a great city and it has a lot to offer," said Brooks. "The transition has been great. We've enjoyed the community here on campus and Minot itself."
The Brooks family has taken advantage of the move by spending time in the city parks and surrounding area.
"We already made it down to Mount Rushmore and Rapid City (South Dakota), that was great," said Brooks. "We've been up to Lake Metigoshe, which is beautiful. We went up there in the fall and it was a perfect moment to go and just take it in."
Exploration for the family comes naturally, as it's an important tenet in Brooks' life philosophy.
"I think it's a passion, a drive to be inquisitive. Inquisitive about life in general and to always be pushing yourself to manage the resources, the gifting, you have been given and use them for the betterment of yourself and others," said Brooks. "As I've moved through my education and professional career and life, I realize — and maybe this is cliché, but it's true — that the older I get and the more I know, the more I realize how little I actually know and understand. This creates a sense of humility, which informs my deliberate patience with others, and in turn propels my inquisitive nature."