05 Apr

WSC Casino Night a Success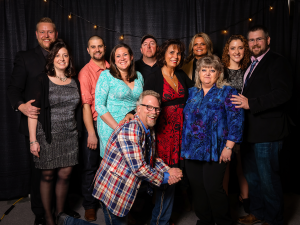 WILLISTON, N.D. – Started in 2009, Teton Athletics' annual dinner and fundraising auction event, Casino Night, hit its 11-year mark on Saturday, March 30, 2019 and in record-breaking style.
The event was sold out with 425 people in attendance – the largest Casino Night ever.
Doors opened at 5:00 pm and guests could start gaming, bidding on silent auction items, and enjoying appetizers right away. Outlaws Bar and Grill provided a buffet dinner at 6:00 pm and the live auction began at 8:15 pm.
The Booster Club held 50/50 drawings for spa gift cards, golf clubs, and cash and the Casino was open for play throughout the night. And for the first time, a sports book and live March Madness basketball games were streamed for guests to watch.
"Casino Night is important as it is by far the largest fundraiser for Teton Athletics," explained Dan Artamenko, WSC's Director of Athletics. "A total of $47,000 was raised, with $37,000 from the live auction and $9,850 from the silent auction. Our moving the event from a Friday to a Saturday also, I think, played a significant role in the event's success."
Some of this year's biggest prizes included a 7-night stay in Cost Rica, Brickyard 400 VIP Suite tickets, and a Wayne Gretzky jersey. A total of $9,700 was raised from these three prizes alone!
In addition to these prizes, the annual truck raffle included a grand prize of a 2018 Ford F150 XLT Supercab. Truck raffle winners are listed at WSCtetons.com and on the Teton Athletic Facebook page (@wsctetons). Winners can collect their prizes at the Williston State College Foundation Office located at 721 E. Highland Drive, Suite E.
Money raised from this event helps improve Teton athletic programs and builds upon the successes of previous years.
"This event is about benefiting our student athletes," stated Alexandra Haskell, Athletic Coordinator. "Casino Night is a wonderful way to get the community involved with athletics. We work hard to ensure we have fun events and items to bid on so everyone can take part. Also, so many local businesses go out of their way to donate auction items, volunteer their time and participate in the event – we try and make it as fun as possible as a thank you to them!"
While next year's Casino Night is far in the future, supporters of Teton Athletics can mark their calendars for a new event – Dueling Pianos hosted by The Teton Booster Club.
The event will be held on September 14 at 7:00 pm. Tickets will go on sale in July.
For more information on Casino Night, Teton Athletics, or upcoming Teton Athletics events, please contact Dan Artamenko at 701.774.4546 or dan.artamenko@willistonstate.edu.