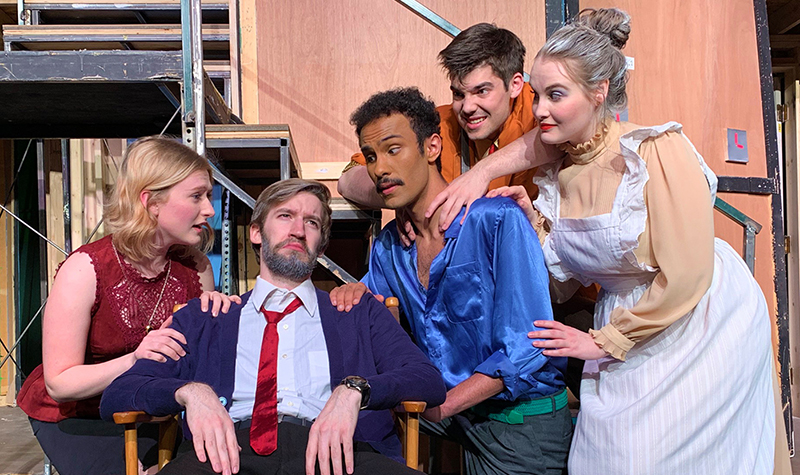 19 Apr

'Noises off' concludes UND's theatre season
UND Theatre Arts spotlights actors' craft in three-act farce, final production of 2018-19
If you go:
Who: University of North Dakota Department of Theatre Arts
What: Noises Off
Tickets: $18 adults and $8 students
Box Office: Burtness Theatre Lobby 3-6 daily and 3-7:30 day of show as well as on (701) 777-2587
Where: Burtness Theatre on UND campus
When: April 23-27, 7:30pm
With "Noises Off," UND Theatre beams the limelight onto the inner workings of the very craft it exalts. Penned by Michael Frayn in 1982, the three-act comedy bears the distinction of the "funniest farce ever written" that pulls the curtain on the follies of a theatre production.
Marking the finale of the 2018-2019 season, the play follows a troupe of touring actors as they scramble to put a British adult farce titled "Nothing On." The frenzied action delivers fumbled lines, missed prompts and real-life drama. The audience follows the actors, over a span of a couple of months, as they rehearse, roister backstage and, finally, put a hilariously misguided performance.
PRODUCTION INFORMATION
Directed by Brett Olson
Scenic Design by Ryan Zako
Lighting Design by Wesley Curtis
Costume Design by Taran Estad
Sound Design by Tyler Smith
Technical Direction by Loren Liepold
Cast
Lloyd – Tanner Sabol,
Dotty – Gina Uhlir,
Garry – Cole Bakke,
Brooke – Meghan McNeil,
Frederick – Robert Cooper,
Belinda – Bethany Springs,
Selsdon – Chris Berg,
Poppy – Chloe Bellione,
Tim – Karter Dolan.
Production Staff
Stage Manager: Erin Hartwig
Stage Managers: Autumn Horton, Taylor Jung
Props Master: Shelby Hazel
Props Manager: Karter Dolan
Master Electrician: Wesley Curtis
Scenic Artist: Ryan Zako, Alex Rice, Nick Ostgaard
Scene Shop Asst.: Jonah Cory, Mark Pintur III, Ryan Zako
Costume Shop Mgr.: Bethany Springs
Draper: Elise Christy
Costume Shop Asst: Shelby Hazel, Meghan McNeil, Kelby Goulet
Wardrobe Supervisor: Daniel Jung
Hair & Makeup Supervisor: Lauren Swenson
Light Board Operator: Seth Stoltenow
Sound Board Operator: Zoe Ramsay
Stage Hands: Alexander Grove, Christopher Kojali, Sara Muehlberg, Christopher Taylor
Box Office Mgr.: Gretchen Osweiler
Box Office Staff: Alex Bodin, Taeler Cables, Dominic Ott
Office Asst.: AliceAnne Pegg
Publicity Design: Brad Reissig