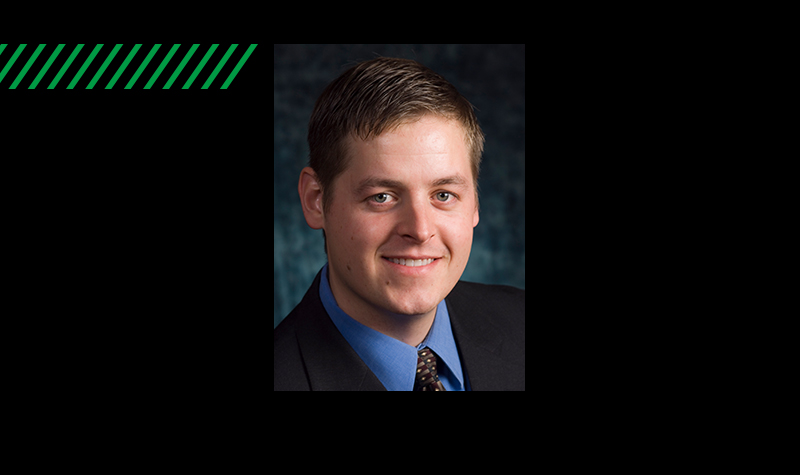 19 Apr

Tande takes UND Engineering & Mines interim job
Longtime faculty member says it's full speed ahead while permanent successor is sought for College
University of North Dakota Vice President for Academic Affairs and Provost Tom DiLorenzo announced today that Brian Tande has been appointed interim dean of the UND College of Engineering & Mines (CEM).
Tande will take over for Hesham El-Rewini, who announced last month that he has accepted the provost job at Marymount University in Arlington, Va.
"I'm delighted that Dr. Tande has stepped up to lead the College of Engineering & Mines as interim dean," DiLorenzo said. "He's an innovative collaborator and natural entrepreneur who brings a wide array of academic and private-sector experience in the science of engineering, research and commercialization. And much of that experience was honed right here at UND.
"I also want to thank the faculty of the College who met with me to discuss how to proceed in selecting an interim dean. Their input and recommendations were central to Dr. Tande's selection."
Outstanding professor
Tande, a Stanley, N.D., native who holds chemistry and chemical engineering degrees from the University of Minnesota and the University of Delaware, where he earned his Ph.D., has been serving most recently as a CEM associate dean. He's also director of CEM's Grand Challenge Scholars program, and served as interim director of the School of Electrical Engineering and Computer Science in 2018.
Tande served in UND's Chemical Engineering Department from 2006 to 2017, and was named Outstanding CEM Professor of the Year in 2010. In 2017, he briefly left UND for a stint at Kansas State University, where he was the graduate programs director and an associate professor of chemical engineering. He returned to UND in June 2018.
His time at UND also has included posts as a faculty fellow in the School of Entrepreneurship, a director of the Jodsaas Center for Engineering Leadership and Entrepreneurship and a department chair in chemical engineering from 2013-17.
Private experience
In the private-sector, Tande has been a product developer working with high-performance polymers for GE Plastics, in Mt. Vernon, Ind.; and a director of operations and quality improvement manager with Fargo-based Tecton Products, LLC, a fiberglass composites manufacturer for the window and door industry.
He's also a co-founder of two companies that have developed UV-reflective coating materials for the hunting products and healthcare industries.  One of those, Lumacept, Inc., has commercialized a patented coating technology that is used in the disinfection of hospital rooms.   Tande has also worked as an independent consultant in materials development and has delivered workshops on engineering statistics and experimental design.
Tande says the opportunity to lead UND's CEM is an honor, especially during a time of transition, following El-Rewini, who served as dean since 2008.
"It's a huge responsibility, but having spent 12 years here as a faculty member, department chair and now as Associate Dean," Tande said. "I feel I have a solid understanding of what needs to be done.  Besides that, I have been able to learn from one of the best. Hesham has not only been an outstanding leader for CEM, he has also been a good friend and a mentor to me."
In addition to his teaching and administrative work, Tande is the author or co-author of at least 25 peer-reviewed research studies, and holds 10 separate U.S. patents.
Strategic support
Tande says that in his new role as interim dean he wants to ensure the College fully supports UND's strategic plan by growing online programs, improving retention and graduation rates and expanding research.
He's also excited about the prospect of new cluster hires in computational sciences and renovations to Babcock Hall, which will become a "Big Data Hub" to bolster future-facing research across the campus. Those are both significant initiatives that will require a lot of attention, he says.
"The College cannot afford to take its foot off the gas," Tande said. "I intend to keep us moving full speed ahead while a permanent dean is found."