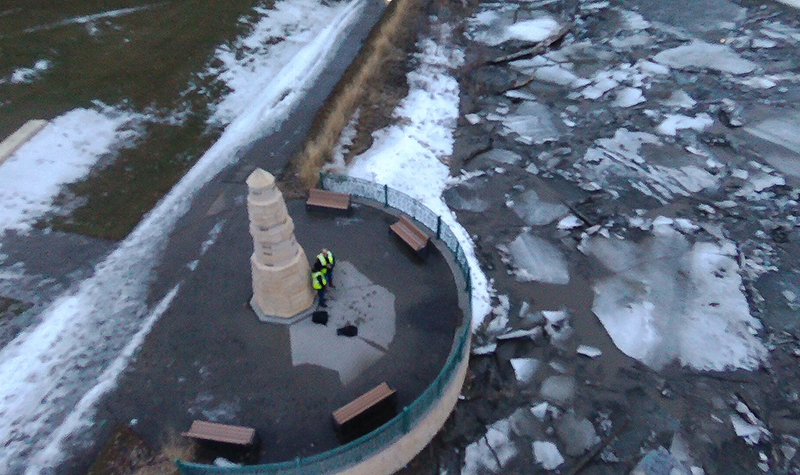 19 Apr

UND drones in the flood fight
UND UAS effort spanned academia, business and government to keep watchful eye on flood
The overcast afternoon sky of April 8 domed the Red River as it spilled over its banks in Grand Forks. Battling the gusts of nearly 14 miles per hour that swished around the basin was a small, 1.5-pound drone, hovering on the north side of the Sorlie Bridge. Close by, JJ Burrill gripped the control console and Paul Snyder peered at the live feed on a tablet.
"I was excited just because it was one of my real-world applications of flying a UAS in the field," said Burrill, a sophomore studying unmanned aircraft systems (UAS) at the University of North Dakota.
That day, Burrill was part of a large flood-fight effort that has bound the City of Grand Forks, UND, UND Aerospace Foundation, the Northern Plains UAS Test Site (NPUASTS) as well as several  drone companies in the use of UAS to monitor river levels at key locales throughout the city.
"We see this as an opportunity for us to really help the community, first and foremost," said Snyder, director of UND's UAS program. "And, secondly, [this is] an opportunity for our students to get some real-world experience to go over and use the UAS for the purposes they are made for."
Community-wide start
The UAS component of Grand Forks' flood fight came into existence in March during meetings between city leaders, the chiefs of police and fire departments and Erin Roesler, UAS standards and policy manager with NPUASTS, who oversees the project.
"UAS has been used in other emergency response efforts," said Roesler. "The difference this time is we are applying small UAS, which have a lot more accessibility, there are a lot more operators of that type of technology and we are making sure the information is disseminated."
The photos and videos obtained during drone flights, which began on April 6, are quickly made available to officials to inform their response to the rapidly swelling Red.
The six operators, who have received NPUASTS briefing and carry City of Grand Forks identification cards authorizing them to fly in the effort, must upload any captured imagery within 12 hours of their outing, Roesler said.
"They are looking for ice dams that are building up on the bridge structures," said Roesler. "They are looking for where the water is. There are different concerns for the different areas, so we identified each one of those."
The areas that have seen daily drone flights for over a week now encompass the Sorlie Bridge and the Kennedy Bridge, the north as well as the south pedestrian bridges, the flood walls and the Shady Ridge neighborhood, which rests on the wet side of a levee. UND representatives glide their UAS over the spans.
Real-world experience for students
For the University, this presents a chance to engage students in a real-life predicament, the consequences of which far outweigh in-class assignments such as field mappings.
While UND has three operators certified to partake in the effort through NPUASTS – Snyder and flight instructors James Moe and Jordan Krueger – about 20 students in an introductory UAS course accompany them to actually maneuver the Parrot Bebop drones that can soar up to 400 feet.
"They are not only learning how to fly the UAS that we have at UND but we take them out in the field and they are immediately doing real-life application," said Krueger. "When they get [what] is basically a commercial operator license for unmanned aircraft, so they can get paid to fly, they already have a little bit of experience under their belt."
Some upperclassmen are also involved. One of them is Burrill, who took the beginners class last semester and joined the UAS-enabled flood fight on the invitation of Snyder and Krueger.
On April 8, together with Snyder, he conducted 10-minute flights on the north and south side of the Sorlie Bridge.
"It was pretty exciting," Burrill said. "I was pretty focused on getting the images that we wanted to get. It is pretty crazy how fast it all happened."
Cautious to prevent the drone from drifting past the middle of the river, where a potential emergency recovery would be hard, Burrill snapped bird's-eye pictures of the stream, banks and bridge.
Doing so is no small feat given the expectations of city officials, who sought a 360-degree view above and beneath the Sorlie Bridge, which had shuttered only hours before Burrill's drone took off that afternoon.
Later, Burrill and Snyder headed roughly a mile downstream to the Kennedy Bridge, where they discovered an ice jam logged under it.
A unique effort
There are several facets – aside from UND students' participation – that render the UAS flood operation unique.
For one, it is a concerted UAS endeavor spanning academia, business and government and bearing implications for the Federal Aviation Administration, which works to incorporate manned and autonomous aircraft in the national airspace.
"Not only is it a coordinated, central effort here involving city government, UND and the UAS sector but there is also a direct flow of information to the FAA to try to help them to develop policies," said Bret Weber, city councilman and UND professor in social work.
Although this spring marks the inaugural integration of UAS into the City's flood-related activities, talks about such a collaboration have transpired for years, Weber said, in an attempt to create a "living laboratory" for University research and UAS enhancement in Grand Forks.
As a result, the current enterprise, which could stretch into recovery efforts after the Red subsides, lays the backbone for a UAS action-plan template not only for future local operations but also for other entities and communities.
"It is a real-life example now, not a scenario, not a research project, that we can show how federal laws and state local interest can be met simultaneously," said Roesler. "It just takes a little bit of education, a little bit of coordination but you can get it done. That is, I think, what is most important."