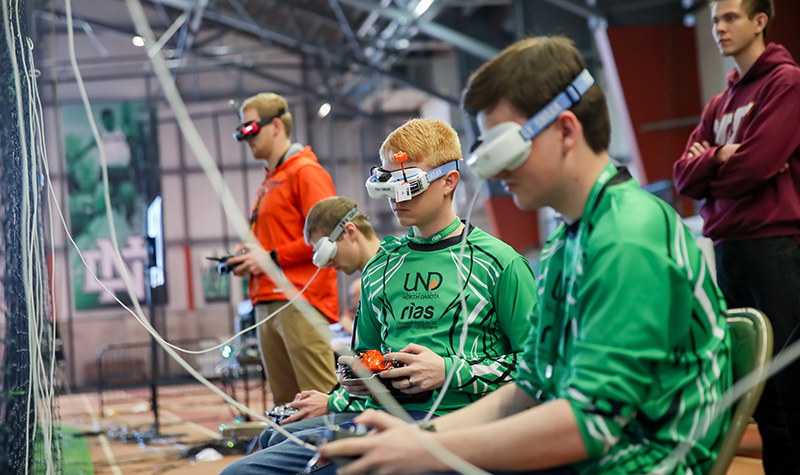 19 Apr

UND raises the bar with Collegiate Drone Racing Championships
UND's inaugural hosting of drone championship draws racing mainstays, fresh faces and rave reviews
April snowstorms and flight cancellations created a "Sweet 16" situation at this year's Collegiate Drone Racing Championship, hosted at the UND High Performance Center.
Forty-six pilots from 16 institutions took on what turned out to be a tight and technical course spanning much of the training facility.
UND's racers held their own through qualifying rounds, with team captain Jordan Krueger placing fifth among the field, but early crashes in the championship bracket took the host University out of contention. The Hawks earned a fourth-place finish.
Embry-Riddle Aeronautical University – Daytona capped a strong showing by hoisting the traveling team trophy, following a lights-out performance by Patrick White, who finished first individually after a series of blade-to-blade races Sunday evening. University of Central Florida claimed second, with Embry-Riddle's Prescott, Ariz., campus coming in third.
Blast on the track
Freshman Russell Marotzke made waves on the UND squad as one of two who made it into the championship bracket (top 16 racers after qualifying rounds). Placing 15th, it was the first time he's ever raced in live competition.
"I loved it," he said of being able to compete. "Being on the same field as these great pilots was awesome."
Since he was racing with UAS/RC Club equipment, he's looking forward to purchasing his own quadcopter this summer and honing his talents for next year.
Julian "JJ" Burrill, another UND racer, said it was surreal to see the CDRC happening in North Dakota, at UND.
"I'm excited for my team and the lap times we've put down, as well as this event," he said during qualifying rounds. "I'm also happy to see the smiles out there today. I knew we'd be able to pull this off with all of the staff and Jordan Krueger's involvement – it looks extremely professional."
Burrill, placing 23rd, made a 10-spot improvement over last year. Nerves and technical issues play a factor in running a smooth race, but it's a blast to be on the track, he says.
Dimensions of cool
Krueger, gazing upon the culmination of a rapid-fire planning process, confirmed on Sunday it was a dream come true.
"We had an amazing team, thousands of man hours went into it and it shows," he said. "This is the most well-rounded event I've seen in my four years of racing quadcopters – it's fantastic."
Many of the cross-campus planning team worked through the weekend to ensure pilots and volunteers were taken care of. Others popped in throughout the day to see the HPC transformed.
"Every time I walk in, it amazes me that we've been able to transform this space," Naomi Hansen, communications director for the Research Institute for Autonomous Systems (RIAS), said. "My favorite part of this weekend has been seeing everyone—our community and pilots—come in and jaws drop."
Mark Askelson, executive director of RIAS, characterized the event as "many dimensions of cool." He was elated to see the public coming in as early as 9 a.m. on Sunday, parents and kids alike lighting up at something new happening in Grand Forks and on campus.
"Even without seeing a race, it's visually appealing," he said before gesturing to the exhibitors. "This is a front porch for unmanned aircraft systems and autonomy at UND. People can recognize the great opportunities within these spaces, and it's just plain fun for the community."
Next-gen professionals
President Kennedy and First Lady Debbie Kennedy made an appearance during the day to cheer on the Fighting Hawks. The president inclined that with lessons learned this year, the University is primed to continue hosting the CDRC.
"The beauty of this event is seeing the enthusiasm and passion for UAS converging at UND," Kennedy said. "It's experiential learning and skill development at its finest. You see the science in action at this competition, and it only makes our students that much more qualified as professionals."
UAS Program Director Paul Snyder also had a front-row view to the student experience. He marveled at how quickly and how often pilots work through problems whether it's their aircraft, other racing hardware or the course itself.
"These are the kinds of people you want working for you," he said of the pilots. "They are so quick to recognize when there's an issue, and they instantly collaborate on solutions. They're true problem-solvers."
Second to none
Not only was the event a success in the eyes of its sponsors and organizers, but MultiGP's Joe Scully offered the University high praise for its inaugural hosting efforts. Scully is to drone racing what John Madden is to football – an unmistakable presence at competitions around the country. At UND, he was nearly a one-man show. Not only was he commentating every race and most moments of the day, Scully maintained a livestream of the event and constructed the heat sheets and brackets as the competition progressed. He says he goes to almost 35 drone racing events a year as executive vice president of event production.
He almost didn't make it to campus.
"My life is show business, so there's no calling in sick," he said. After flight delays and cancellations, he decided to rent a car and drive to Grand Forks. With snowstorms slamming the Midwest, Scully found himself avoiding highway closures through dangerous country roads. He got stuck in a four-foot drift and slept in his car until someone towed him out seven hours later. Even for someone of his experience, he truly ran the gambit.
"The hospitality that the University and town has rolled out here is second to none," he said. "I'd be so proud of the team that put this together. They did an outstanding job. I haven't seen an event like this and UND raised the bar."