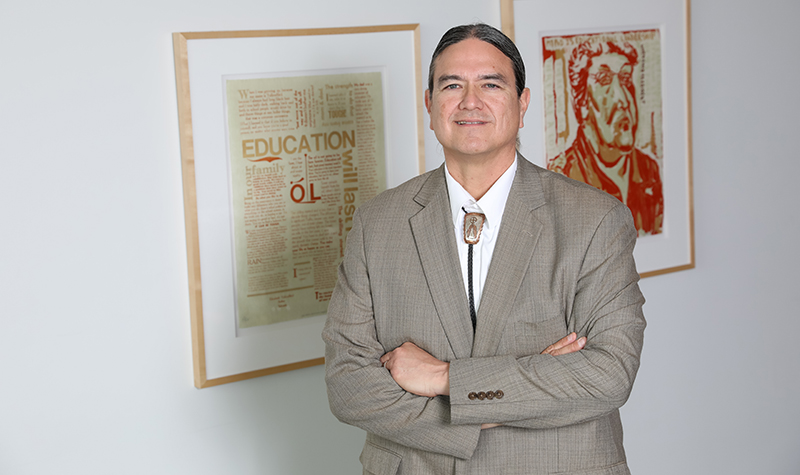 19 Apr

UND's Don Warne tends the healing flock
UND SMHS Associate Dean for Diversity, Equity & Inclusion Don Warne works to engage students, prepare health professionals
Outside Don Warne's office is a popular spot for students to gather and chat.
Inside, Warne is surrounded by books, degrees and awards. The centerpiece of his office – and always in sight – is a large whiteboard filled with rows and columns of neat writing. Some are crossed off, others have notes.
There are a lot of projects, and they're always top-of-mind, said Warne, who wears multiple hats as the director of the Indians Into Medicine (INMED) Program, director of the Master of Public Health (MPH) Program and associate dean for diversity, equity & inclusion at the UND School of Medicine & Health Sciences.
His ultimate goal is to prepare the next generation of health professionals.
"I love engaging all students, American Indian or not," said Warne. "I find students energizing. They are why we're here. I feel good about the next generation of healers."
Holistic vision
Warne has a holistic vision that starts with educating middle school students and takes them through high school and college, medical school and beyond.
The INMED Program assists American Indian students who want to become health professionals, starting with kids in 7th grade all the way through medical school. Established at UND in 1973, INMED offers a Summer Institute for students in grades 7-12 and supports medical and health professional students. Services include academic and personal counseling for students, assistance with financial aid applications, and summer enrichment sessions at the junior high through professional school levels.
"Kids from all over the country want to be here," said Warne, who added that they've received more than 100 applications for the Summer Institute, an enrichment program that offers classes in science and health, along with field trips. "We have the resources to support 48 students but the capacity to serve 100 on campus. The program is in demand."
He and other faculty members at the UND SMHS recently received a multi-year, $322,000 grant to help high school teachers at tribal schools improve their STEM curricula and create engaging lessons. The goal is to pique student interest in STEM.
INMED supports college students who want to work in medical education, physical therapy, occupational therapy and medicine, as well as some other undergraduate programs.
More than 240 American Indian physicians practicing across the continent are INMED alumni.
"We just admitted seven outstanding American Indian students who will start medical school in the fall," Warne said. "Our graduates are serving tribal communities across the nation."
Unique program
Since he started as director of INMED last May, Warne has brought in more than $1.3 million in grants, not including faculty salaries. Next fall, he plans to launch the world's first doctorate in public health emphasizing indigenous health. And he's also launching the first accelerated MPH program, which will enable students to earn both a bachelor's and master's degree in five years.
Warne has also revised the MPH program.
"For the first time, we are offering an online 'asynchronous' program for physicians and clinicians," said Warne, who holds both an M.D. and M.P.H. "This means health professionals can work on the degree when they have time."
"We will offer the only indigenous health, the only online bachelor's/master's degree combination, and one of very few health policy MPH degrees," Warne said. "We're collaborating with faculty all over the world, including Canada, New Zealand, Australia, Guam and Norway."
Warne is also working to increase the numbers of American Indian professors of medicine, as well as administrators.
He is one of just two American Indian associate deans at a U.S. medical school. The other, Joycelyn Dorscher, associate dean for student affairs & admissions, is also at UND.
That's good news for UND, Warne said, as he added that he is hiring more faculty with the goal of becoming full professors.
"There are 37,000 professors of medicine in the U.S., and only 10 are American Indian," Warne said. "We are working to change that. I want to promote diversity, equality and inclusion at the School."
Warne said great things are happening at INMED and in the public health program.
"It's an honor to do this," he said. "This doesn't feel like work."