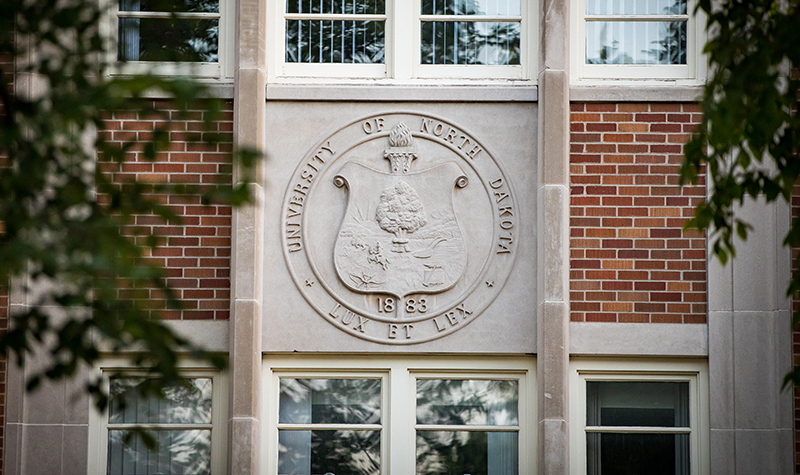 19 Apr

Varberg gets top HR post at UND
Internal candidate Peggy Varberg selected from national pool for associate vice president position
Peggy Varberg is UND's new associate vice president for human resources.
"Human resources is a key to the success of the University," said Jed Shivers, vice president for finance & operations & COO, who announced the appointment. "UND brings talented faculty and staff together to teach new generations and create new knowledge as well as serve our community and state."
Shivers said that Varberg combines the attributes he was seeking for the position, coupled with an important asset.
"Peggy has been working here for five years as an HR manager, and knows the culture, people and institutions well," Shivers said. "She competed with candidates from across the U.S., and came out on top."
Varberg also brings personal strengths to the job, said Shivers.
"Peggy is completely engaged, works hard, and is the friendly approachable person that people in the Red River Valley want to work with. She has a broad perspective and understands how HR is an essential contributor to the University."
"I love higher education and the people who serve higher education," Varberg said. "I'm so excited to work with people who serve students and each other. What drives me is to continue to bring in the greatest faculty and staff to serve our students."
Varberg, who has served as interim director of human resources & payroll services since October, has been with UND since 2013. She has worked in human resources for Gonzaga University in Spokane; as chief administrative operations officer and HR director for Tri-Valley Opportunity Council in Crookston, Minn.; HR manager/director for SEI LLC/Verety in Grand Forks: and as an independent HR consultant and preschool teacher.
She succeeds Pat Hanson, who left last fall for another position.
Expanded position
Shivers said the job description has been expanded from director of HR and payroll services to associate vice president.
"This recognizes the strategic importance of HR," Shivers said. "We always build upon the efforts of our predecessors. Under Alice Brekke (retired vice president for finance & operations), Pat Hanson built a very competent human resource organization which is well known for its ability to successfully manage large numbers of personnel actions.  Now we need to transition Human Resources so that it continues to be that competent processor but also becomes a strategic partner for all of the operating units at the University."
One of Varberg's major goals, Shivers said, is to transform UND into a preferred employer in the region.
"We want UND to be the primary choice for the students in our region, and we want UND to be the preferred employer," he said. "That means we have to improve our efforts to acquire, develop, and retain talent."
"I'm so excited about the support HR will have to do great things for faculty, staff and the University," said Varberg. "A preferred employer offers growth opportunities, career development and more. "My goal is to retain and recruit well as we inspire students and their future growth."
Shivers said that Varberg and her team will work to build and manage relationships across the University and cultivate a strong working relationship with the president and his team, advocate diversity and inclusion, improve morale, and more.
"Peggy embraces the challenges of transitioning the HR organization from processing transitions to its new role as a strategic partner," said Shivers. He added that Varberg will work with him and NDUS Core Technology Services to move away from the manual systems of human resource transactions to more automated systems. The goal, he said, is to be more focused on being partners with operating units.
"I'm truly honored to serve the faculty and staff of UND," Varberg said. "What drives me is continuing to bring in the greatest faculty and staff to serve students, and the opportunity to work with great people across the University."