24 Apr

WSC Student Goes Paperless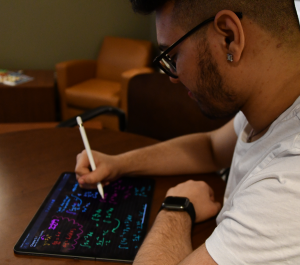 WILLISTON, N.D. – Williston State College sophomore Chris Flores has taken on what may seem impossible; Flores has gone paperless.
From his personal life to work and school, Flores has eliminated the collection and use of paper. Barring very few exceptions like a birth certificate, Flores has scanned, shredded, and/or recycled any papers he had or receives.
"I would say I'm 95% there," explained Flores. "Minus the most important paper items I can't part with, the clutter is gone."
Prior to his quest to be paper-free, Flores was like most of us.
"I always used paper to take notes, but it would stack and stack," stated Flores. "I would lose notes and I didn't know where everything was because I couldn't stay organized. I tried to study but I hate clutter and just got distracted."
Flores started on his current path last August after watching, Minimalism: A Documentary About the Important Things. The film emphasizes living life versus the materials items you own.
Flores got rid of clothes he never wore before quickly turning to the paper notes and notebooks he had collected from his first year in college.
Eliminating the obvious first, Flores purchased a Rocketbook Wave to move away from taking future paper notes. A reusable notebook, the Rocketbook looks like any other paper notebook, but allows the user to take notes and pictures of the pages which are digitized through the Rocketbook app. What is written can be manually erased or microwaved away.
"I used the Rocketbook first because it was cheap, only about $20, and easy to use," explained Flores. "But when I knew I wanted to go further and was serious about being paperless in all aspects of life, I switched to the more expensive iPad and an Apple pencil."
Flores uses the app, Notability, which allows him to record class lectures and take notes – typed or written – on the iPad. The app organizes his notes and can search through keywords in his writing to help him find what he needs.
"After my transition to the iPad, I got rid of the rest of my paper," stated Flores. "There was a point where I thought I couldn't do it because it seemed so hard – and it was – but I wanted to declutter my life and eliminate the stress that resulted from it. I knew this was the best decision for my mental health."
Flores moves from class to class with just his iPad and an Apple pencil and his instructors now know what to expect.
Most instructors have their books available online, prefer emails, and are leaning toward going paperless and offering digital alternatives.
Like Flores, Wanda Meyer, Associate Professor of Mathematics, has chosen to go paperless in her office, classroom, and at home.
"Technology is a part of the world that we live in and is part of our future," stated Meyer. "Technology is changing the educational world. Students have access to technology and love learning with the tools available to them. Technology allows us to correct mistakes easily and to document classroom activities. These tools have also increased the efficiency in the classroom, especially the grading process."
"I think it's cool that she has gone paperless," said Flores. "She stays focused and it's great that she makes her classes pretty much paper-free."
Flores is enrolled in Meyer's MATH 165 Calculus I class this spring and completes all of his Calculus homework on his tablet.
"Chris completes homework problems & exams electronically – correcting his work as many times as needed beforehand efficiently using his electronic devices," explained Meyer. "Chris has done a fabulous job color coding his work on his electronic devices to assist his learning process, which in turn has assisted me in the grading process."
Flores has encountered some drawbacks though, as not all instructors are as heavily invested in technology.
"Some instructors don't use computers as much and have books created specifically for their class, so a digital version isn't available," explained Flores. "I had to buy a book for one class and there will be times in Astronomy when we have worksheets and I have to ask for a pencil because I don't have those anymore. Luckily my instructor is understanding and has one available."
Despite these drawbacks, Flores believes the good outweighs the bad as he feels less stressed and can better focus on studying when everything – notes, homework, and books – is on his tablet.
"Going paperless isn't just about the paper," stated Flores. "It's a mindset change. I buy things I need and that will last for a long time, versus items that have limited use and end up in the trash."
For those looking to be more sustainable, whether that means going entirely paperless or not, Flores suggests approaching any changes slowly and mindfully. Feeling overwhelmed is normal.
"I couldn't go straight into being paperless," explained Flores. "I would have cried if I tried that. I eased my way to where I am. Do as much as you are comfortable and able to do at a time."
So, the next time you're handed a piece of paper, or maybe you are already swimming in papers, consider what it might meant to take a paperless path in your own life.
A Resident Assistant, Flores is involved in Student Government and is the Vice President of Diversity Club. He will graduate this spring before continuing on a Minnesota State University – Moorhead next fall.
For more information on this story, please contact Wanda Meyer at 701.774.4556 or wanda.meyer@willistonstate.edu.
For more information, please visit www.willistonstate.edu, call 1.888.863.9455, or stop by 1410 University Avenue, Williston, ND.