29 Apr

Dickinson State spring commencement ceremony to be held May 11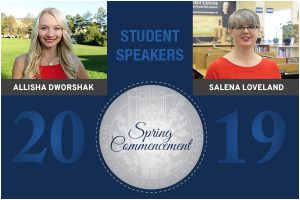 Dickinson State University (DSU) students Allisha Dworshak and Salena Loveland will address the graduates at the 99th spring commencement ceremony Saturday, May 11, at 10 a.m. in Scott Gymnasium.
Allisha Dworshak is the daughter of Timothy and Lisa Dworshak of Dickinson, North Dakota. Dworshak is graduating with a Bachelor of Science in accounting and business and a minor in leadership. During her time at DSU, Dworshak participated in Phi Beta Lambda (PBL) where she served as the DSU chapter President for two years and held the state officer position as North Dakota PBL's Vice President of Operations. She was also a Theodore Roosevelt Honors Leadership Program scholar, Student Senator, a Sigma Beta Delta member, an Omicron Delta Kappa member, Collegiate Farm Bureau member, Fellowship of Christian Athletes student leader, and a DSU Rodeo athlete, participating in the events of goat tying and barrel racing. Outside of DSU, Dworshak works as an intern at Mackoff Kellogg Law Firm. After graduating from Dickinson State, Dworshak will be attending the University of North Dakota – School of Law and plans to one day open her own firm.
Salena Loveland is married to Robert Loveland and is a proud doggy mom to her yorkie, Jasper. She grew up in Worland, Wyoming and is the daughter of Ken Hall of Worland, and Nancy Hall of Buffalo, Wyoming. She will be graduating with a Bachelor of Arts in English – creative writing track, and minors in graphic design and communications. While at DSU, Salena participated in SOTA and TRIO SSS and is a member of Alpha Sigma Lambda and Omicron Delta Kappa honor societies. She worked as a writing tutor for three and a half years, was involved with DSU's literary magazine, Impressions, for three years, and served on committees for Heart River Writers' Circle, CommUniversity, and on the Tutoring Center Coordinator selection committee. She plans to earn an MFA and a PhD in creative writing with goals of writing fiction and creative nonfiction and teaching writing to college students.
Dickinson State will award 156 baccalaureate degrees and 37 associate degrees at the spring commencement ceremony. Students will celebrate their graduation by walking across the platform to receive their diplomas from the University's 12th president, Dr. Thomas Mitzel.
More than 200 students are eligible to participate in this year's ceremony; this number includes all spring and summer 2019 graduates, as well as students who graduated last fall but did not participate in the December ceremony. Six students will also graduate with Theodore Roosevelt Honors Leadership Program distinction.
The graduates, faculty, staff, alumni and guests will also hear from Dr. Carmen Wilson, provost and vice president of academic and student affairs, and Nick Hacker, a representative of the State Board of Higher Education.
Live streaming of the ceremony will be available at www.dickinsonstate.edu.