07 May

HR Management degree offered by DSU School of Business and Entrepreneurship ranked third in nation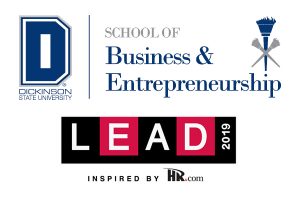 The Bachelor of Business Administration in Human Resource Management offered by Dickinson State University's (DSU) School of Business and Entrepreneurship was ranked third in the nation during the 2019 Leadership Excellence and Development (LEAD) event March 5 – 8, in Salt Lake City, Utah.
For more than 35 years, the LEAD Awards, formerly known as Leadership Excellence Awards, have identified and recognized the top leadership programs and organizations and their strategies and solutions in their yearly ranking. These prestigious leadership awards salute the world's top leadership practitioners and programs and highlight their roles in developing their most important asset – their people.
"We are thrilled to be recognized as a top program in the nation," said Dr. Holly Gruhlke, chair of the School of Business and Entrepreneurship at DSU. "This award is evidence of the School of Business and Entrepreneurship's dedication to our students and excellence in business education."
This International Assembly for Collegiate Business Education (IACBE) accredited bachelor's degree in Human Resource Management is intended for undergraduate students seeking to improve their human capital management skills. Students learn skills such as employee recruitment, compensation and training, with special emphasis on retention and strategic hiring practices to meet organizational goals.
"Dr. Gruhlke and her faculty are outstanding examples of the dedication to DSU's mission statement to provide high-quality, accessible, programs," said Marilyn Lee, DSU's associate provost and dean of instruction. "On behalf of Academic Affairs, I extend my congratulations on this award."
This year's award winners will be published in the April edition of the Leadership Excellence e-publication.
About LEAD
The Leadership Excellence & Development (LEAD) event is an annual inspirational leadership conference dedicated to helping organizations create an innovative, high potential and passionate workforce. The conference is action packed with Leadership and HR-specific roundtables, workshops, networking opportunities and speakers. Participants learn how to take the world's best corporate leadership practices and concepts and put them into practice, applying them to their organizations. Keynotes inspire and motivate attendees personally and professionally with their amazing stories about overcoming obstacles, facing adversity and persevering through hardships. The Awards Gala evening celebrates award-winning leadership and development programs. www.LEAD2019.com
About HR.com
HR.com strives to help create inspired workforces by making HR professionals smarter.  Over 1.2 million HR professionals turn to HR.com as the trusted resource for education, career development and compliance:  85+ primary research reports from the HR Research Institute, 400+ webcasts yearly, the largest HR certification exam preparation program supporting SHRM and HRCI certification, legal compliance guidance program, thousands of lessons and tips in an on-demand training library, and 12 monthly themed interactive HR e-publications.  HR.com offers the best training and networking for HR professionals globally 24/7 year-round. Please visit www.HR.com.