13 May

Dworshak and Sease named DSU's 2019 Outstanding Graduates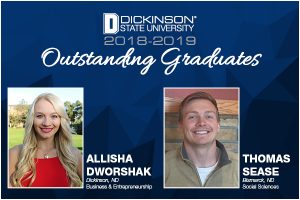 Allisha Dworshak and Thomas Sease were named Dickinson State University's (DSU) 2019 Outstanding Graduates at the Outstanding Graduate awards ceremony held Friday, May 10, in the Student Center Ballroom. The Outstanding Graduate Award is the highest honor bestowed on two graduating seniors by the University. Dworshak and Sease were nominated along with 18 other students by faculty in their academic departments for exceptional performance in their fields of study.
Allisha Dworshak, daughter of Timothy and Lisa Dworshak, is graduating from Dickinson State University with a double major in accounting and business and a minor in leadership. Raised in the country outside of Dickinson, North Dakota, Dworshak is a wonderful example of a student who has successfully used her drive and determination to achieve all things.
While at Dickinson State, Dworshak was a member of the rodeo team all four years where she competed in goat tying and barrel racing. Even with the extensive travel during both the fall and spring semesters, Dworshak was a member of the Theodore Roosevelt Honors Leadership Program and was chosen to present at the 2018 National Collegiate Honors Council Conference.
Perhaps Dworshak's greatest contribution came in collegiate Phi Beta Lambda (PBL) where she served as president of the DSU chapter for two years and as the state vice president of operations for one year. She excelled at the state convention capturing first place awards in events in 2017 and 2018 as well as placing in the top three at the national convention in two events in 2018. She received the Who's Who recognition in both 2017 and 2018 for her outstanding leadership as a PBL member and officer. In 2018, she was presented with the School of Business and Entrepreneurship's Boyd Binde Outstanding Senior in Accounting Award.
Dworshak also served as a member of Collegiate Farm Bureau, Sigma Beta Delta, Omicron Delta Kappa, as well as Student Senate. In addition to her active participation on campus, Dworshak found time to work as a server at Applebee's, intern at Mackoff Kellogg Law Firm, and volunteer as a tutor at Dickinson High School as well as for area youth in horsemanship activities.
After graduating from Dickinson State, Dworshak will be attending the University of North Dakota – School of Law and plans to one day open her own firm.
Thomas Sease, son of Ted and Shelly Sease of Bismarck, North Dakota, is graduating with a Bachelor of Science in psychology and a minor in exercise science. Sease is a first-generation college student who made a promise to himself during convocation his freshman year of college that his experience was going to be full of limitless opportunities. He definitely achieved that and more.
Sease was a dual-sport athlete for the Blue Hawks proudly wearing the blue and gray uniform for both the football and track teams. In football, he was a four-time All-Conference selection and received All-American First Team honors his senior season. Sease was named the North Star Defensive Player of the Year in 2017 and was a Cliff Harrison Award finalist, an award presented to the NAIA's Most Outstanding Football Player. He currently holds the school record for tackles in a career and season despite playing two separate seasons with a broken wrist. In track, Sease was a two-time national qualifier. In his senior season he received the Champion of Character award from the North Star Athletic Association Conference in track. In addition, Sease received Academic All-Conference and Academic All-American honors twice in both sports. Sease ended his collegiate athletic career being named the DSU Senior Athlete of the Year in 2018.
Sease has been actively involved academically in research on projects related to substance abuse, personal crisis, and Alzheimer's disease. He co-authored a publication in the peer reviewed Journal of Conscientiousness: Theory, Research, and Practice.
Even with his busy schedule, he found time to give back to his classmates by serving as a peer tutor in the areas of chemistry, mathematics, and psychology. He was also the team tutor for DSU wrestling. During the 2018-2019 academic year, he served as the president of the Psychology Club. He has also been a swimming lesson instructor, has assisted with coaching track at Hagen Middle School, and is currently working as a phlebotomist at CHI St. Alexius Health.
Sease will be attending the University of Louisiana at Lafayette this fall where he will be taking classes in the departments of psychology and biology with plans to continue his research on substance abuse. His goal is to graduate with a doctorate in clinical psychology. Eventually, he would like to work at a small university where he can continue to research, practice, and mentor the next generation of behavioral scientists.