21 May

DSU faculty and staff recognized for excellence in teaching and service at annual awards ceremony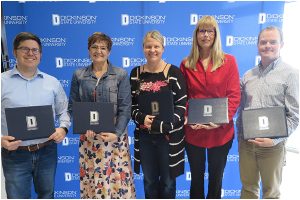 Dickinson State University (DSU) held its annual faculty and staff award ceremony May 2, 2019. This event, which was first held in 1988, is an opportunity for the University to celebrate the accomplishments and service of faculty and staff.
More than 40 individuals were honored for their years of service to the institution. Individuals received recognition for five, 10, 15 and 20 years of service. Those retiring from the University, including Arley Berg, Dorothy Renner, Brenda Schaeffer, and Ken Pierce, each received a special recognition and rocking chair, provided by the DSU Heritage Foundation. Pierce also was awarded the distinction of Professor Emeritus.
"Faculty and staff are the core of the institution and we are stronger for their service," said DSU President, Dr. Thomas Mitzel. "We thank them for their all they do for our students and community."
In addition to recognizing years of service, the ceremony also recognized individuals who achieved excellence in their area.
"Each year the campus has the opportunity to nominate their colleagues for these awards," said Marie Moe, executive director of University Relations. "The nominees are reviewed by a peer committee comprised of previous award winners."
This year, the following awards were given:
Distinguished Educator of the Year
Dr. Joshua Steffan
Assistant Professor of Agriculture and Assistant Professor of Biology
Department of Agriculture and Technical Studies and Department of Natural Sciences
Professional Contributions Award
Dr. Jeremy Wohletz
Assistant Professor of Music
Department of Fine and Performing Arts
Excellence in Teaching Award
Ms. Hildee Fike
Instructor of Mathematics
Department of Mathematics and Computer Science
Adjunct Faculty Recognition Award
Ms. Jarri Newton
Adjunct Instructor
Department of Agriculture and Technical Studies
Administrative Staff Service Award
Ms. Mari Kovash
Office Manager
Theodore Roosevelt Honors Leadership Program
Professional Staff Service Awards
Mr. Anthony Willer
Director
Technology Resource and Education Center
Ms. Samantha Wohletz
Professional Advisor
Student Opportunity and Resource Center
Blue Hawk Hero Award
Mr. Tim Kreidt
Athletic Trainer
In recognition of heroic actions that resulted in a life saved at Scott Gymnasium Saturday, Jan. 16, 2019.