05 Jun

WSC Associate Professor Competes in Great Cycle Challenge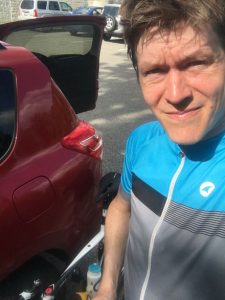 WILLISTON, N.D. – Dr. Kyle Norris, Associate Professor of Music at Williston State College, is taking his passion for bike riding to the next level by competing in the Great Cycle Challenge this June.
Started in 2015, the Great Cycle Challenge is a fundraiser that benefits the Children's Cancer Research Fund. Anyone can participate in this nationwide challenge and can sign up either as an individual or with a team of riders. Riders can pledge to ride 10 miles while some serious bikers may ride 1,000.
Over the past four years, participants have logged over 12 million miles and raised over $16 million in support of research to develop better treatments and find a cure for childhood cancer.
"I learned about the Great Cycle Challenge through social media and I felt like it would be something rewarding to participate in," explained Dr. Norris. "I enjoy riding and I knew I had friends and family that would donate so I decided to set a small goal and see what I could do to help a worthy cause."
Dr. Norris' "small goal" is to ride a minimum of 300 miles during the month of June and raise $500.
Donations are not set per mile; rather, anyone who wants to donate can pledge a flat amount through a rider's page. There are suggested donation amounts as well as the option to enter a specific amount. Individuals and organizations can pledge funds and supporters can choose to remain anonymous.
"I normally ride 75-100 miles a week," stated Dr. Norris. "In winter, most of these have been training miles and might be a session of an hour or a little more. During the winter months I average between 300-400 miles per month and I'm hoping to increase this with nicer weather finally here."
In winter, Dr. Norris bikes on an indoor trainer and uses a program called Zwift. Zwift is an online cycling videogame and physical training program that enables users to interact, train, and compete in a virtual world. Participants can ride with people from around the world and participate in group rides, structured training, races, and tour events.
Dr. Norris started using Zwift in mid-December and has logged roughly 2,115 miles through this program.
With the change in weather, Dr. Norris takes his rides outside and around Williston from the bike path alongside East Dakota Parkway to the hills on the West side of town.
As an experienced rider, he has a short mental checklist that he runs through when the riding gets difficult: breathing, cadence, and hydrate/fuel.
"Breathing helps keep the heart rate down and as a result keeps muscles from having to work harder than they need to," explained Dr. Norris. "Cadence relates to how fast or slow you're spinning your legs. I have a comfortable tempo that works for me and if I can stay in rhythm it makes time on the bike much easier. If neither of these work, I probably need to get some fluids and/or food to get some energy."
If interested in supporting Dr. Norris in his goal and tracking his progress, please visit his rider page at: www.greatcyclechallenge.com/Riders/KyleNorris.
For more information on the Great Cycle Challenge, please contact Dr. Kyle Norris, Associate Professor of Music, at kyle.norris@willistonstate.edu.
For more information, please visit www.willistonstate.edu, call 1.888.863.9455, or stop by 1410 University Avenue, Williston, ND.