01 Jul

WSC Associate Professor Finishes Great Cycle Challenge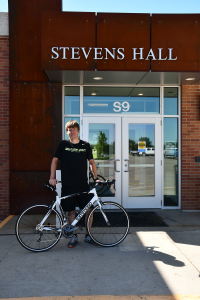 WILLISTON, N.D. – June 30 marked the end of the month and the completion of the Great Cycle Challenge for Dr. Kyle Norris, Associate Professor of Music at Williston State College.
Started in 2015, the Great Cycle Challenge is a fundraiser that benefits the Children's Cancer Research Fund. Anyone can participate in this nationwide challenge and can sign up either as an individual or with a team of riders. Riders can pledge to ride 10 miles while some serious bikers may ride 1,000.
Over the past four years, participants have logged over 12 million miles and raised over $16 million in support of research to develop better treatments and find a cure for childhood cancer.
Dr. Norris' original goal was to ride a minimum of 300 miles during the month of June and raise $500. He rounded out his month-long cycle journey with a total of 585.5 miles and raised $937.05.
Ranked 7th out of 57 riders in the state of North Dakota, Dr. Norris biked a total of 21 rides the longest coming in at 58 miles. With an average speed of 15.5 miles per hour, he biked a total of 37 hours and 37 minutes and burned 30,555 calories.
"It has been a long month in the saddle but it was rewarding to participate in the Great Cycle Challenge," said Dr. Norris. "When you look at the totals for the entire event, you realize that there are a lot of wonderful people willing to take time to help others. Thanks to everyone in town that shared the road with me this month!"
If interested in seeing Dr. Norris' ride stats or to donate to the Great Cycle Challenge (through July), please visit his rider page at: www.greatcyclechallenge.com/Riders/KyleNorris.
For more information on the Great Cycle Challenge, please contact Dr. Kyle Norris, Associate Professor of Music, at kyle.norris@willistonstate.edu.
For more information, please visit www.willistonstate.edu, call 1.888.863.9455, or stop by 1410 University Avenue, Williston, ND.