05 Jul

Bismarck State College president to retire June 2020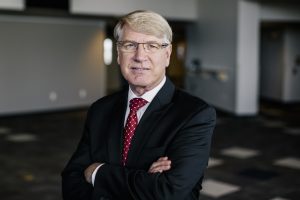 Bismarck State College (BSC) President Larry C. Skogen  will retire June 30, 2020. Skogen was hired in 2007, and he spent two of his 12 years serving as Interim Chancellor for the North Dakota University System. 
 Skogen is the sixth president in the college's 80-year history. Under his leadership the college has formed educational agreements with all branches of the U.S. military, strengthened industry partnerships to build programs, remodeled and built new campus buildings, and led the charge in adopting new technologies and methods within the system. Most recently, BSC was approved to become a polytechnic offering four-year technical degrees.