16 Jul

WSC Celebrates PN Students with Pinning Ceremony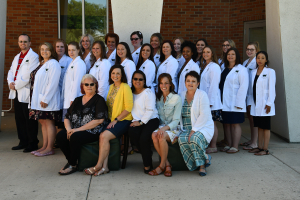 WILLISTON, N.D. – Williston State College celebrated its newest class of practical nursing (PN) students on Friday, July 12 with a pinning ceremony in the Teton Lounge.
A total of 24 students – 20 from WSC and four from WSC's satellite site in Tioga – received their PN Certificate and a symbolic nursing pin.
"The nursing pin is a source of pride and privilege earned by our nursing program graduates," explained WSC Nursing Coordinator, Gail Raasakka. "Each school adopts a symbol or pin to indicate the excellent nursing educational program the graduate attended."
The intimate ceremony celebrates students' accomplishments in the Dakota Nursing's PN Program.
The program prepares students to work as licensed practical nurses (LPN) under the supervision of a registered nurse, physician, or dentist. Upon completion of the program, graduates are qualified to apply to take the National Council Licensure Examination for Practical Nurses, as required by the North Dakota State Board of Nursing for licensure as an LPN.
Graduates may also pursue an Associate in Applied Science degree and apply to the Dakota Nursing's Associate Degree (AD) Program at one of the four consortium colleges: WSC, Bismarck State College, Lake Region State College, or Dakota College at Bottineau.
"We are proud of our students and their hard work," emphasized Raasakka. "Our PN program had a 100% pass rate this year and this rate has been maintained for the past 6 years. At this time, our AD program is also sitting at a pass rate of 100%."
The Nursing program at WSC is currently in pre-candidacy status with the Commission for Nursing Education Accreditation (CNEA). Accreditation from a national accrediting body like CNEA demonstrates a commitment to excellence in nursing education and distinguishes a nursing program.
If interested in applying to the WSC Nursing program, apply for admission at willistonstate.edu/apply and register for the last Registration Day of the summer on Thursday, July 25 from 9 a.m. to 12 p.m. in Stevens Hall.
In order to register for classes and attend a Registration Day, you must be accepted for admission.
To register for the last Registration Day, please visit: willistonstate.edu/registration.
For more information on this story or the WSC Nursing program, please contact Gail Raasakka at 701.774.4290 or gail.raasakka@willistonstate.edu.
For more information, please visit www.willistonstate.edu, call 1.888.863.9455, or stop by 1410 University Avenue, Williston, ND.