29 Jul

Two WSC Students Win Trip to Cybersecurity Conference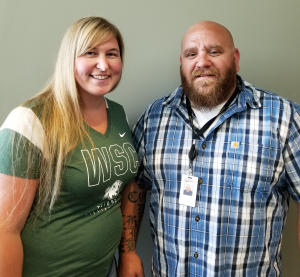 WILLISTON, N.D. – Williston State College students, Brandy and Justin Howell, will attend the 2019 Community College Cyber Summit (3CS) in Bossier City, Louisiana this week having received an all-expenses paid trip.
Started in 2014, 3CS is the only national academic conference focused on cybersecurity education at community colleges.
The conference is organized and produced by the National CyberWatch Center, National Resource Center for Systems Security and Information Assurance, CyberWatch West, and Broadening Advanced Technological Education Connections, which are all funded by the National Science Foundation (NSF).
According to the 3CS website, "the outcomes of 3CS leverage community college cybersecurity programs across the nation by introducing the latest technologies, best practices, curricula, products, and more."
Students of Ken Quamme, Professor of Information Technology (IT) at WSC, the husband and wife duo first learned of the conference opportunity in April.
"I received an email about student funding available thanks to an NSF grant for the 3CS," explained Quamme. "I shared this email with all of my students, but Brandy and Justin stood out in my mind."
On June 6, the Howells received emails congratulating them on being selected to receive all-expenses paid trips to attend 3CS 2019 from July 30 through August 1.
"I am extremely excited to be offered this amazing opportunity," said Brandy Howell. "This will open many amazing doors for my future and Justin's. This is a once in a life time opportunity to be able to connect with others in the cybersecurity field."
Held at Bossier Parish Community College, the conference includes a Job Fair and Career Exploration component. Students will have the opportunity to speak with employers from government, business, and industry sectors and learn about job and internship opportunities.
Conference participants include college faculty, administrators, and students, as well as employers, government, and industry.
Five Tracks are available including a student-specific track that discusses further education programs, industry certifications, career paths, resume preparation and interviewing skills, and more.
The Howells hope to bring back knowledge of what future employers are looking for in graduating students and hope to make their own connections with prospective employers for future employment after graduating from WSC.
The duo has also excelled in the Cyber FastTrack program, a free online cybersecurity program for college students and graduates organized by the SANS Institute, the largest training organization for cybersecurity professionals in the world.
"Taking IT classes from Ken Quamme has been a life changing experience," emphasized Brandy. "There are so many jobs in the industry and as we become more reliant on technology, more and more jobs become available. The WSC IT program opens many doors for students in all different parts of the technology field as long as you put your mind to it."
For more information on this story, please contact Ken Quamme, Professor of Information Technology, at 701.774.4207 or ken.quamme@willistonstate.edu.
For more information, please visit www.willistonstate.edu, call 701.774.4200, or stop by 1410 University Avenue, Williston, ND.