14 Aug

Former Teton Returns as Head Baseball Coach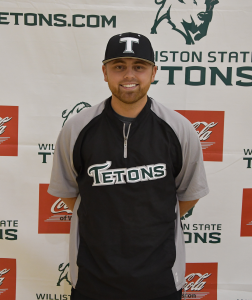 WILLISTON, N.D. – A Teton Baseball player from 2015-2017, Mason Przybilla returns to Williston State College as its new Head Baseball Coach for the upcoming 2019-2020 season.
From Detroit Lakes, Minnesota, Przybilla started playing tee ball at 5-years old and was first introduced to baseball when a friend needed an extra player on his team.
When deciding on a college, Przybilla remembers loving WSC the moment he stepped on campus for a visit his senior year of high school.
"The people at WSC and in the community are so easy to talk to and they always want to do anything they can to help," stated Przybilla. "The ARC was also a big part of my decision. Very few schools in the north have the ability to train like we do up here in the winter months."
A catcher, Przybilla was an All-Conference Player and led the country in hit-by-pitch – hit 48 times – his sophomore year at WSC.
He graduated with his Associate in Arts from WSC before continuing on to Mayville State University where he completed a Bachelor of Science in Sports Management.
Przybilla learned about the Head Baseball Coach position shortly after it was announced that former Head Coach Shawn Cote was transitioning to a full-time teaching position at WSC.
"The head job at WSC is one I have wanted since I was a player here," explained Przybilla. "Shawn Cote provided me with such an amazing experience that I wanted to be able to do the same for other kids."
Excited to get to work and recruit more players, his ultimate goal is to get the Teton Baseball program to the College World Series. In the past, the Series has been only one game away for the Tetons.
Przybilla will be joined by his Assistant Coach, Cody Hartman, from Colorado Springs as well as a Strength and Conditioning Coach and an Assistant Pitching Coach.
"This year's team is going to be pretty split with returners and incoming freshman," explained Przybilla. "We will be looking for major contributions from both classes, but the returners should be very hungry to improve on last season."
"Ultimately, we want to turn our boys into men and move them on to four-year schools where they are successful on and off the field and ultimately graduate."
When asked what it was like to return to WSC, he admitted, "I am thrilled to be able to wear Teton green again. There is nowhere I would rather coach."
Przybilla will be joined in Williston by his wife, Cassidy, this December.
For more information on Teton Baseball and Mason Przybilla, please contact Dr. John Miller at 701.774.4231 or john.s.miller@willistonstate.edu.
For more information, please visit www.willistonstate.edu, call 701.774.4200, or stop by 1410 University Avenue, Williston, ND.