30 Aug

Turtle Mountain Community College Interim President Kellie Hall named to UND Presidential Search Committee
Hall, a UND alumna, set to replace Cankdeska Cikana Community College President Cynthia Lindquist, who resigned to be part of the North Dakota Ethics Commission
Kellie Hall, vice president and interim president of Turtle Mountain Community College, has been appointed to the University of North Dakota Presidential Search Committee by co-chairs Dr. Casey Ryan and Dennis Elbert.
Hall will replace Cynthia Lindquist, Cankdeska Cikana Community College president, who resigned after being appointed to the North Dakota Ethics Commission.
"Dr. Denny Elbert and I appreciate Dr. Kellie Hall stepping in and serving on the UND President search committee," said committee co-chair Dr. Casey Ryan, a member of the State Board of Higher Education.
About Kellie Hall: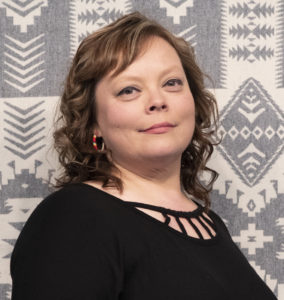 Kellie Hall is an enrolled member of the Turtle Mountain Band of Chippewa Indians.  She holds a Bachelor of Science Degree from Minot State University in Education with a major in Psychology and a Minor in History, a Master of Education in Educational Leadership from the University of North Dakota, and a Doctorate of Education from the University of Mary. She is also a Credentialed Career & Technical Education Director through the ND State Department of Career and Technical Education and a Level I (7-12) Credentialed Principal from the Education Standards and Practices Board of the State of North Dakota.   She has worked as a teacher at the high school level for 18 years; acting high school principal; Career and Technical Education Director for four years; and Education Specialist in School Improvement for the Bureau of Indian Education for three years.  She has served as the Vice President of the Turtle Mountain Community College since 2012, and Interim President since January 2019.  She is a member of the American Indian Higher Education Consortium (AIHEC) Chief Academic Officer group, and serves as the TMCC Accreditation Liaison Officer to the Higher Learning Commission.
The UND Presidential Search Committee is currently accepting nominations and applications for the positon of president, and will hold its third meeting Oct. 2, when members are expected to identify candidates for interactive video interviews.
Dr. Joshua Wynne, vice president for health affairs and dean of the UND School of Medicine & Health Sciences, is serving as interim president of UND.
The University's next president is expected to begin duties on or before July 1, 2020. For more information, visit und.edu/president/search.
–30–
Meloney Linder
Vice President for Marketing and Communications
Division of Marketing and Communications
Direct: 701.777.2501
Office: 701.777.2038
meloney.linder@und.edu
Billie Jo Lorius                  
Communications Director
NORTH DAKOTA
University System
600 E Boulevard Ave, Dept 215
Bismarck, ND 58505-0230
701.328.4107
ndus.edu
Find NDUS on social media:
David L. Dodds
Director of Communications
UND Today
Division of Marketing & Communications
University of North Dakota
david.dodds@UND.edu
O: 701.777.5529
C:701.740.4834