04 Sep

14th annual Theodore Roosevelt Symposium to be held at Dickinson State Sept. 12 – 14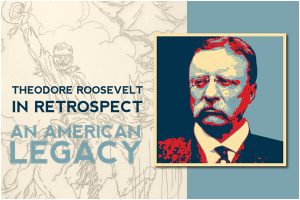 Dickinson State University (DSU) and the Theodore Roosevelt Center invite the public to attend the 14th annual Theodore Roosevelt Symposium, which will take place on the DSU campus Sept. 12 – 14, 2019.
As this year marks the hundredth anniversary of Theodore Roosevelt's death, the theme of this year's symposium is "Theodore Roosevelt in Retrospect: An American Legacy," which will feature a "Cartoon-Off" between cartoon expert Rick Marschall and our own humanities scholar, Clay Jenkinson, Thursday, Sept. 12, at 7 p.m. in Dorothy Stickney Auditorium. Each will present and make the case for their favorite Roosevelt cartoons, which highlight various aspects of his legacy.
A few other feature events include:
Friday, Sept. 13, 2019
9 a.m. – Roosevelt and the American Century | Geoffrey Wawro, University of North Texas
10:45 a.m. – The Roosevelt Image in American Memory | Michael Cullinane, University of Roehampton, London
7 p.m. – Theodore Roosevelt in American Memory | Roosevelt's death was followed by a vast international outpouring of editorials, reminiscences, songs, cartoons, poems, sermons, obituaries, newspaper retrospectives and political tributes. A sample of these preliminary assessments of his achievement and legacy has been assembled for your entertainment.
Saturday, Sept. 14, 2019
8 a.m. – Field trip to Regent and Medora, North Dakota
"Our symposia are really just extended conversations about important topics that are relevant today," said Sharon Kilzer, project manager for the Theodore Roosevelt Center. "There is something for everyone, whether you are interested in Theodore Roosevelt or not, and we hope you will join in the discussion of historical questions that still rankle in our times."
One hundred years after his remarkable life ended, Theodore Roosevelt continues to influence our life as a nation and as individuals. Join in this conversation about his legacy in leadership, conservation and more.
To register, or for more information, visit www.dickinsonstate.edu/tr. These events are open to the public, and most are free to attend. Registration for DSU faculty, staff and students is free.
The Theodore Roosevelt Center is dedicated to preserving the legacy of America's 26th president. The Center has undertaken the monumental task of creating a presidential digital library that will serve as a repository for all Roosevelt-related documents, photographs and ephemera, providing instant access via the internet in a well-organized, comprehensible manner. The Center also hosts an annual Theodore Roosevelt Symposium as well as special Roosevelt-related events, promotes Roosevelt scholarship and offers student internships.