11 Sep

DSU receives continued accreditation from Higher Learning Commission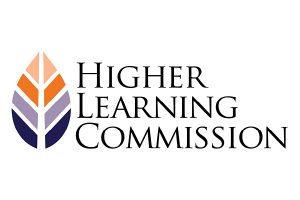 Dickinson State University (DSU) has received continued accreditation status from the Higher Learning Commission (HLC) following a midcycle comprehensive review of the institution's mission, academic programs and services, governance and administration, finances and resources.
The HLC is an independent corporation that grants and determines the accreditation status of degree-granting post-secondary institutions in 19 states. A comprehensive evaluation occurs every 10 years, with a midcycle review during the fourth year. The review confirmed that DSU is meeting recognized accreditation standards in higher education, pursues institutional improvement and excellence, and is in full compliance with requirements set by the U.S. Department of Education.
The review process involved the entire campus community, including faculty, staff, administrators and students. Accreditation teams worked for over a year gathering evidence and preparing information to demonstrate that DSU met HLC criteria and federal requirements. DSU submitted its Assurance Argument and Federal Compliance Report in February 2019, which was followed by a campus visit in March 2019 from an HLC evaluation team of peer reviewers from Michigan, Colorado, Oklahoma, Missouri and Minnesota.
In June 2019, the HLC's Institutional Actions Counsel confirmed DSU's continued accreditation status. The HLC visiting team highlighted several DSU accomplishments in its report:
DSU's Dual Mission role is on track to better serve the workforce needs of western North Dakota by providing a range of new academic educational opportunities in meaningful, responsive ways.
In the past three years, DSU has launched two graduate degrees, realized significant gains in retention, weathered funding limitations, and continues to invest in its students.
DSU has made great progress in the integrity of its operations since 2015. Policies and procedures are in place, leadership fosters best practices across the institution, and the State Board of Higher Education provides appropriate oversight. The DSU Heritage Foundation is operating with clear oversight, effective and appropriate internal controls, and significant transparency.
DSU provides high quality instruction appropriate to higher education and provides student support services in ways that maximize effectiveness while managing financial resources.
DSU has made substantial progress in the area of assessment and continues to advance in this area.
Based on HLC recommendations, DSU will continue to review academic programs and operations in support of its students, the community, and in alignment with the University's strategic plan. DSU's next comprehensive evaluation for reaffirmation of accreditation is scheduled for 2024-25.