17 Sep

WSC's Active Minds Spreads Suicide Awareness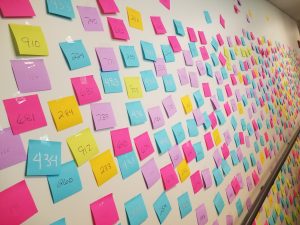 WILLISTON, N.D. — Visitors to Williston State College will notice an eye-catching hallway display in Stevens Hall this week.
Colorful individually numbered sticky notes decorate almost an entire wall.
While they look cheery, these pieces of paper have a somber meaning. They represent the 1,100 college students in the United States who die by suicide every year.
Active since January 2016, WSC's Active Minds is the student organization behind the powerful display.
"With 1,100 suicides at colleges per year, that's 7.5 percent per 100,000 students," explained Patrick Drapeau, the counselor at WSC. "We wanted a visual of this number because last week was National Suicide Prevention week and we want to keep everyone's minds focused on suicide prevention even after the End the Darkness Walk on Saturday."
Active Minds is a national nonprofit organization dedicated to utilizing student voices to raise mental health awareness among college students. There are over 400 Active Minds chapters nationwide but only two in North Dakota: one at WSC and the other at Minot State University.
WSC's Active Minds is based on community and seeks to eliminate the stigma surrounding mental health by initiating conversation and hosting student events. Later in the semester, WSC Active Minds plans on hosting a "stress less" week and inviting back the Service Dogs of America during finals week.
Eight students are currently involved in the group.
"Active Minds is important because we believe no one should have to struggle alone," stated Drapeau. "By empowering students to speak openly about mental health, we can reduce stigma, encourage help seeking, and prevent suicides."
According to the American Foundation for Suicide Prevention, suicide is the second leading cause of death among college students. Two out of three students with anxiety or depression do not seek treatment.
One risk factor of suicide is social isolation, and there is scientific evidence for reducing risk by making sure individuals connect.
The power of connection is important and even one conversation can save a life.
WSC offers mental health counseling services for free to enrolled students. Personal counseling services provide confidential consultation, brief short-term intervention, and referrals.
"The goal of counseling services is to help students return to their normal functioning as soon as possible," explained Drapeau.
WSC's mental health counseling team includes Drapeau as the primary counselor located at WSC as well as two professional counselors on other North Dakota University System campuses available through tele-med services.
Students interested in joining WSC Active Minds are welcome to attend one of their meetings. The group meets every Thursday at 4:30pm in Stevens Hall room 130.
For more information on Active Minds, please contact Patrick Drapeau at 707.774.4212 or patrick.drapeau@willistonstate.edu.
For more information, please visit www.willistonstate.edu, call 701.774.4200, or stop by 1410 University Avenue, Williston, ND.