19 Sep

WSC Students Learn About Marketing Through Trash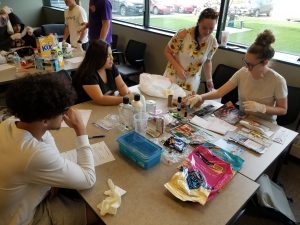 WILLISTON, N.D. – One person's trash is another's…in-class activity? On Tuesday, Williston State College's Business Instructor, Leah Windnagle, took an ethnography exercise in her Principles of Marketing class to the next level.
Twenty-three students divided into six groups and were each handed a bag of trash. The task? To construct a profile of the volunteer households who donated the bags.
Donning gloves and with a few mild utterances of "oh gosh," "gross," and "wouldn't it be nice if they washed their garbage," students began to pick apart their used treasures.
Amusement and bewilderment remained as students constructed a potential household profile based on the items before them.
Ethnography is the study of consumers that relies on the interpretation of artifacts to draw conclusions about consumption. By looking at trash, students had to figure out who their consumers were, how they lived, and how they could market to them in the future.
Windnagle first learned of the exercise from a fellow marketing instructor.
"I thought it was such a perfect assessment of finding out more about our target markets and our target households," explained Windnagle. "Our trash can provide a very holistic look of our habits and where we put our priorities and who is in a household."
Just as where we shop and what we purchase says something about our lifestyles, so too does our trash.
Insight can be gleaned from brand names like Hello Fresh and Purina but also from mailers, food waste, and the presence or absence of diapers.
"I think our person is maybe single given the smaller portion sizes," hypothesized Mindy Brower, a freshman, as she studied small wrappers that once contained ground beef and broccoli.
When asked what they thought of the day's exercise, Brower and her tablemates echoed one another with phrases like "hands-on" and "definitely fun and interesting."
At the end of the exercise, each group presented on its household based off its trash.
"This year's group had mixed results," explained Windnagle. "Some were spot on in their profiles compared to the profile provided to me by that household."
Others weren't quite as close and needed to do a bit more digging, literally and figuratively in considering what each item could tell.
"I wanted them to understand who their consumers were," explained Windnagle. "We then took their research and visualized that we worked at a marketing firm in Williston. Based off the trash, each group had to develop particular products for a fast-food company and examine marketing mediums that would best reach their consumers."
In addition to the hands-on research, Windnagle and her students discussed netnography, a branch of ethnography that studies the behavior of online cultures and communities and how this research might help enhance their consumer profiles.
For more on this story, please contact Leah Windnagle at 701.774.4220 or leah.windnagle@willistonstate.edu.
For more information, please visit www.willistonstate.edu, call 701.774.4200, or stop by 1410 University Avenue, Williston, ND.