26 Sep

WSC Student Nurses Host Blood Drive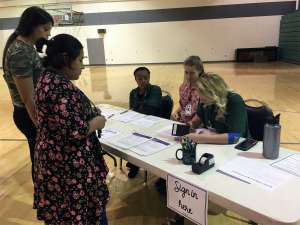 WILLISTON, N.D. – Last Thursday, the Williston State College Student Nursing Organization (SNO) hosted a successful fall blood drive.
Associate Degree Nursing (ADN) and Practical Nursing students from Williston and the Tioga nursing site with the assistance of Kari Lesmeister MSN, RN, Assistant Professor of Nursing, oversaw the event.
The drive was held in the Skadland Gymnasium from 12 p.m. until 5 p.m. and staff from Vitalant, formerly United Blood Services, handled blood collection.
The goal was to schedule 29 donors and to collect 36 donations.
Over five hours, 47 donors were scheduled and 49 donations were collected. Of the 47, 31 were first-time donors.
"SNO is so thrilled to be able to involve our community with such a needed event," stated Victoria Douglas, SNO President and an ADN student. "We love to see familiar faces who have donated before, but it was an honor to see college students joining in! We even had a few donors under the age of 18 who had their parents' consent! It was great to see such a young group eager to help."
The next SNO blood drive will be in January 2020 followed by the last blood drive of the year on Tuesday, April 28, 2020.
"There is currently a severe shortage of blood in this area," explained Lesmeister. "When a trauma occurs, or patients get sick, hospitals need to have blood readily available and there is currently not an adequate supply. We can help this by donating!"
For more information on SNO and this story, please contact Kari Lesmeister at 701.774.4277 or kari.lesmeister@willistonstate.edu.
For more information, please visit www.willistonstate.edu, call 701.774.4200, or stop by 1410 University Avenue, Williston, ND.