01 Oct

Oasis Donates to WSC Transportation Program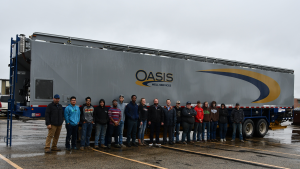 WILLISTON, N.D. – On Monday, September 30, Oasis Petroleum delivered a sand transfer machine to the Williston State College Transportation Technology Program.
The unit, colloquially known as a sand slinger, is designed to move large amounts of sand, or Proppant, in a precise manner to a blending unit that then mixes the sand and water for hydraulic fracturing. Proppant is used to "prop open" the fractures in shale after the water used to fracture the layer is returned to the surface.
"The design is borrowed from agricultural equipment used for moving grain so the machine will look familiar to anyone from farming or an oil and gas background," explained Brian Fitzgerald, Oasis Well Services Frac and Maintenance Manager.
The estimated dollar value of the donated unit is $242,577.
On August 19, WSC Transportation Instructors Hunter Erickson and Clayton Sponable hosted an introductory meeting about the Transportation Technology Program where Fitzgerald was in attendance.
"Mr. Fitzgerald introduced the idea of donating the sand transfer machine," stated Erickson. "With this donation, our students will be able to gain hands-on experience with different style equipment used in the transportation field."
Fitzgerald reflected that he knew right away that Oasis would be able to partner with WSC to enhance the student experience.
"My hope is that this donation will give the students hands-on experience with industry equipment in a way that builds their knowledge and confidence," said Fitzgerald. "The hydraulic systems used by this system are similar to those used on many types of equipment in oil and gas, agriculture, construction and industrial settings."
When asked about the importance of this donation to his program, Erickson echoed Fitzgerald and described the unit as a "highly useful training aid."
"This unit is equipped with hydraulic jacks that raise it off the ground and safely lock into the raised position," explained Erickson. "This feature will safely allow students to work on all suspension and axle components, such as, wheels, brakes, axle bearing, etc. These components are common to all heavy-duty transportation trailers."
With this donation, Fitzgerald hopes students will see Oasis as a partner to WSC and to students, in and out of college.
"Oasis is a proud supporter of WSC," emphasized Fitzgerald. "We partner together with a number of programs and hope to continue this into the future."
For more information on this donation or the Transportation Technology Program, please contact Hunter Erickson at 701.774.4564 or hunter.erickson@willistonstate.edu.
For more information, please visit www.willistonstate.edu, call 701.774.4200, or stop by 1410 University Avenue, Williston, ND.