04 Oct

DSU President Dr. Thomas Mitzel selected as next President of Kentucky Wesleyan College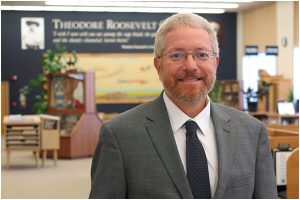 Dr. Thomas Mitzel, President of Dickinson State University (DSU), has been selected as the next President of Kentucky Wesleyan College. Mitzel has grown enrollments and forged new financial pathways as the President of DSU, a position he has held since 2015.
During a distinguished career in higher education, Mitzel has excelled in every academic setting: as a scholar and faculty member, an Associate Provost, a Dean of Natural Sciences, a Provost of a nationally ranked liberal arts college, and as President of DSU. He has accomplished much at Dickinson State, including supporting the development of the University's Foundation, gaining the confidence of the business community, and building relationships with all constituencies at the University.
Regarding his time at Dickinson State University, Dr. Mitzel said, "I am proud of our accomplishments. Working with the new DSU Heritage Foundation to ensure connectivity to our surrounding Blue Hawk supporters to aid our students in their educational endeavors has been a major highlight of the past four years. The DSU Heritage Foundation has worked steadfastly and tirelessly to ensure our institution has a healthy financial basis for campus needs and student scholarships. Well beyond these two accolades, however, the DSU Heritage Foundation has been instrumental in helping the University reconnect with the local community and the Blue Hawk alumni who are so passionate about the institution and its machinations."
"We have stabilized the student enrollment and have begun to rebuild the student community on campus once again. Residence housing numbers continue to climb. The increase in retention for our first to second year students has been amazing. This increase could not have occurred without the hard work of both faculty and staff members. By making students feel that the campus is their home, more of them are choosing to stay. Student involvement in academics, athletics, social and academic clubs, and community involvement also continue to rise in a positive manner. This trend should continue in the coming years, again establishing DSU as a leader for the surrounding area as we integrate a younger generation into the ethos of Dickinson and western North Dakota."
Mitzel started his career as a faculty member and administrator at Trinity College in Hartford, Connecticut, a nationally ranked liberal arts institution. Mitzel taught organic chemistry there for 12 years, and served three years as Associate Provost, overseeing curriculum and budget for all academic programs. He then became the Dean of Natural Science at St. Edward's University, a thriving Catholic institution in Austin, Texas, with a service-based mission and record of academic excellence. At St. Edwards, Mitzel worked with university advancement to raise $6.5 million in six months for a new science building, in addition to raising an endowment for the institution's recently acquired Wild Basin Wilderness Preserve. Mitzel then returned to Trinity College as Provost, where he helped guide the College through a presidential succession, before assuming the presidency of Dickinson State.