14 Oct

WSC Giving Day a Success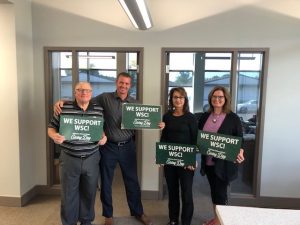 WILLISTON, N.D. – Organized by the Williston State College Foundation and held on Thursday, September 19, this year's WSC Giving Day was one for the record books.
Rounding out Alumni Week, Giving Day is a designated day where donated funds are matched twice-over by the WSC Foundation.
"The idea of Giving Day has been a trend among almost every college and university in the country as well as many other non-profit charities and organizations for the last few years," explained Hunter Berg, Alumni Association Director. "We look forward to growing our Giving Day and celebrating it more and more each year."
Over 300 donors were involved in this year's event, raising over $70,000. When matched by the WSC Foundation, total donations equal over $200,000, a 169% increase over last year's total.
Areas of support included the Arts and Humanities and Math and Science departments, various campus clubs and organizations, Teton Athletics, nursing, campus beautification, and scholarships.
Next year's goal is to reach 1,000 donors.
"This year's Giving Day was great," emphasized Berg. "We enjoyed seeing our supporters in the community and were glad they stopped by the office to visit. Giving Day does a lot of good for our campus as we continue to grow and improve. It is another example of how supportive our community is and we could never say 'thank you' enough."
In other WSC Foundation news, another Teton Booster Bash event will be held on Thursday, October 24 at JDubs Bar and Grill from 6:30 p.m. to 9 p.m.
Open to Booster Club members and Teton supporters 21-years-old and up, this social event includes free appetizers, Teton Trivia, and more.
New this year is Teton Olympics where teams of four can compete in Hoop Shoot, Puck Blast, Darts, and Cornhole to win prizes. Cost of team entry is $20.
For more information on Giving Day, the Teton Booster Bash, and/or other Alumni events, please contact Hunter Berg at 701.572.9275 or hunter.berg@willistonstate.edu.
If interested in donating to the WSC Foundation, please visit wscfoundation.com and click "Give Today" or call 701.572.9275.
For more information, please visit www.willistonstate.edu, call 701.774.4200, or stop by 1410 University Avenue, Williston, ND.