24 Oct

Teton Trail [of Treats]: 4 Years of Spooky Fun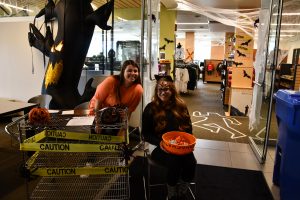 WILLISTON, N.D. – Williston State College once again welcomes Williston's trick-or-treaters to walk its halls for the popular Halloween event: Teton Trail [of Treats].
The family-friendly event – now in its 4th year – is free and open to the public and is on Thursday, October 31 from 2:00 to 5:00 p.m.
WSC will host 16 spooky stops for children and their families to play games, watch movies, and receive candy or prizes from WSC employees, clubs, and departments.
Participants will receive a "passport" and a stamp from WSC representatives at each stop. Completed passports can be submitted for a chance to win a prize from the WSC Bookstore.
All stops are in Stevens Hall and the Well. Participants can start anywhere on the Trail and at any time between 2:00 and 5:00 p.m.
Over 1,500 tick-or-treaters have walked the Trail over the last three years.
"This has become a fun tradition," explained Caitlin Pallai, Communication Specialist. "The energy on campus the day of is great and it's always a treat to see what costumes are the most popular each year."
WSC's Teton Trail [of Treats] is just one of several Halloween events happening around Williston on the 31st.
Be sure to check out the Trail of Treats downtown from 2:30 to 5:30 p.m., Trunk or Treat at Faith United Methodist Church from 2:30-5:30pm and at New Hope Church from 6:30 to 8:00 p.m., and the All City Halloween Party at the ARC from 5:30 to 8:30 p.m.
For any questions on parking at WSC, please reference areas C1-C4 and V1 here: https://www.willistonstate.edu/maps
For more information, please visit www.willistonstate.edu, call 701.774.4200, or stop by 1410 University Avenue, Williston, ND.