07 Nov

Culbertson Students Explore I.T. Opportunities at WSC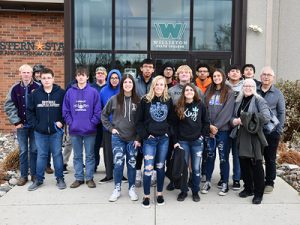 WILLISTON, N.D. – On Tuesday, November 5, students from Culbertson High School visited the Western Star Building at Williston State College to explore career paths in Information Technology (I.T.).
The 18 high school students were joined by their Introduction to Computers instructor, Phyllis Owan, and learned about both WSC's I.T. and Petroleum Technology and Automation programs.
"Phyllis contacted me about a month ago and asked if she could bring a group of her students to WSC to learn about career paths in I.T.," explained Ken Quamme, Professor of Information Technology. "Given the overlap between I.T. and Petroleum Technology, I partnered with Alexey Kovalev to present and share what industry is looking for in potential employees."
Students started the day with Alexey Kovalev, WSC's Petroleum Technology and Automation instructor, and a tour of the petroleum lab. Kovalev explained WSC's automation curriculum and demonstrated a variety of training equipment including the Programmable Logic Controller (PLC) trainers and how they are used in industrial automation.
Students engaged in hands-on activities constructing and operating basic circuitry on the AC/DC training unit, as well as operating controls on a tank level control unit.
After lunch in the Teton Grill, the group returned to the Western Star where Quamme presented on a number of options in the I.T. field including computers, networking, servers, and cybersecurity.
Students made and tested their own patch cables for networking, which they were able to take home. They also tested the strength of a password by keying it in for all students to see and determining if a change was needed based on basic cybersecurity principles.
"Just talking to students does not always reach them, but hands-on activities definitely send a strong message about CTE programs and their value," stated Quamme. "There are many takeaways from activities like this and we extend the value of WSC."
In addition, Quamme rounded out the day by briefly reviewing WSC's other available CTE programs and emphasizing the value of obtaining skills in other disciplines.
"With the regional scholarship extending into Montana, I feel it is important for students to see what WSC offers and also to hear the value we have in partnering with industry on important skill sets in areas like I.T. and Automation," said Quamme. "Both WSC and visiting students benefit and it's always rewarding to see students excited about a future in these careers."
For more information on this story, please contact Ken Quamme, Professor of Information Technology, at 701.774.4207 or ken.quamme@willistonstate.edu.
For more information, please visit www.willistonstate.edu, call 701.774.4200, or stop by 1410 University Avenue, Williston, ND.