22 Nov

'Tis the Holiday Music Season!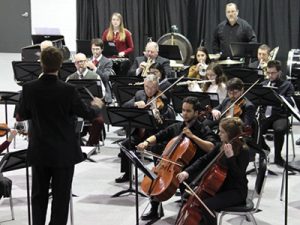 WILLISTON, N.D. – The holiday music season is back and as always it is a busy one for the Williston State College Music Program.
On Friday, November 29, the Williston State Community Orchestra (WSCO) strings will play at the James Memorial Art Center's Warm Up after the Annual Holiday Lights Parade and Light Up of Harmon Park at 7 p.m. WSC has participated in this event since 2013.
The WSCO is an ensemble that includes WSC students, area music educators, and community musicians.
The WSCO will also perform at Bethel Lutheran Home on Sunday, December 8 at 2:30 p.m. as part of the annual Crusade for Strings hosted by Williston's local music club, Thursday Musical.
"Thursday Musical collects donations at this event and uses those funds to send area string students to International Music Camp during the summer," explained Dr. Norris, Associate Professor of Music. "The camp is located between the U.S. and Canada in the International Peace Gardens."
On Wednesday, December 11, the WSC Choir will host its Winter Concert at 7:00 p.m. in Stevens Hall room 216. This event is free and open to all ages and will feature traditional and seasonal choral literature.
On Sunday, December 15, WSC will host its 7th annual Holiday Concert at 2:30 p.m. in the Skadeland Gym.
Dr. Norris introduced the Holiday Concert tradition in 2013. The concert is also free and open to all ages. Donations benefiting the WSC Music Department will be accepted at the door.
The WSCO continues in the spring and the group is always looking for string players. If interested, please contact Dr. Norris.
For more information about these events and/or the WSC Music Department, please contact Dr. Norris, Associate Professor of Music, at 701.774.4572 or kyle.norris@willistonstate.edu.
For more information, please visit www.willistonstate.edu, call 701.774.4200, or stop by 1410 University Avenue, Williston, ND.