16 Dec

WSC Welding Student Raffle Returns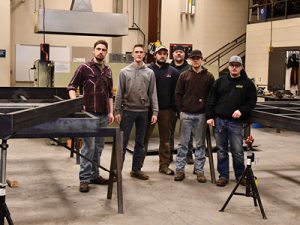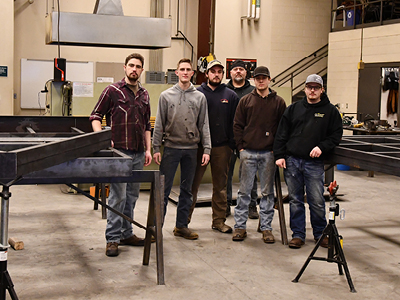 WILLISTON, N.D. – Second year Williston State College Welding students, under the direction of WSC Welding Instructor, Tim Delorme, are just beginning to work on their newest raffle item, a 12,000lb capacity 12' by 6'4" hydraulic dump trailer.
"I remember seeing a hydraulic dump trailer out on a job site and thought that would be a fun project for students," explained Delorme. "This project is important because it gives my students hands-on experience. I call these '3-in-1' projects as students have to use their knowledge of print reading, layout, and welding to complete it."
At this time, the trailer and box frames are constructed and ready for welding. Once welding is complete, students can begin fitting up the trailer's side walls.
Students will put in an estimated 60 hours into this project over the course of the fall and spring semesters.
Since 2017, WSC Welding students have raffled off three trailers and four smoker/grills.
In the past four years, just shy of $35,000 has been raised.
The money covers the cost of the materials for the next year's project. Money is also used to purchase materials for smaller projects like metal roses, as well as for end of the year field trips. Past field trip locations include tours of the Falkirk Mine in Underwood, North Dakota, the Bobcat Bismarck location, and TrueNorth Steel in Mandan, ND.
Raffle tickets are now available and are $25 each.
Only 1,000 tickets are available. Tickets will be available until Monday, May 12 when the drawing will be held at 12:00 p.m. in the Western Star building (CTE) on the WSC campus.
Tickets are available for purchase in the front lobby of the CTE building Monday-Friday 8:00 a.m. to 5:00 p.m. until Monday, May 12 prior to the drawing at 12:00 p.m. Interested individuals can also call Delorme at 701.774.4272.
Winners do not need to be present to win. Purchasing a ticket is not a charitable donation. Proceeds raised from the raffle go to the WSC Welding Program for materials and to cover class activities like program-related field trips.
If interested in purchasing a raffle ticket or learning about the Welding Technology Program, please contact Tim Delorme, WSC Welding Instructor, at 701.774.4272 or timothy.delorme@willistonstate.edu.
For more information, please visit www.willistonstate.edu, call 701.774.4200, or stop by 1410 University Avenue, Williston, ND.