02 Jan

President and Dean's Lists Released for Fall 2019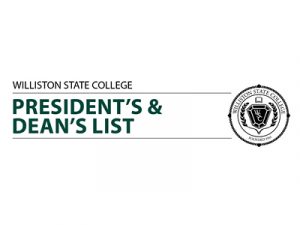 WILLISTON, N.D. – Of the 1,132 students enrolled in Fall 2019, 171 were named to Williston State College's President's Honor Roll and the Dean's List.
Students who earned a 3.8 grade point average (GPA) or higher while enrolled in twelve or more credits for the semester are named to the President's Honor Roll.
Students who earned a 3.5-3.79 GPA while enrolled in twelve or more credits for the semester are named to the Dean's List.
Being on either list also makes students eligible to become part of WSC's Alpha Rho Iota Chapter of Phi Theta Kappa (PTK), a national honor society. To maintain eligibility, each student must enroll in a minimum of twelve credit hours per semester and keep an average of 3.30 GPA while attending WSC.
Congratulations to the following WSC Fall 2019 President's Honor Roll and Dean's List recipients!
President's Honor Roll
Alexander Alexandrou
Clara S. Arnegard
Dorothy Alida Arnegard
Angela Karyme Ayon Jaime
Laia Balcells Niubo
Haylee Lynne Barta
Alicia K. Bauley
Peyton E. Beyerle
Mia S. Blom
Morgan Christine Bosley
Bailey R. Brachtenbach
Samantha Leeann Byers
Zachary Allen Carson
Cody W. Christianson
Rod Maurice D. Contreras
Emilie A. Corley
Kaleb M. Cornell
Brady Everett Doeden
Anna Faith Dragseth
Joshua David Duckworth
Kandyce G. Edwards
Rio Shae Elliot
Audrey E. Felix
Alyx Payton Fisketjon
Jonathon Robert Flores
Morgan R. Folstad
Hamish William Johnson Foreman
Hannah Noel Gackle
Nadia Claret Garcia Gonzalez
Yarenci Darlet Gonzalez
Alexis Mathia Gunderson
Rachelle Marie Hamilton
Madison Kathryn Hammer
Kellie S. Hansen
Taylor N. Heape
Alec Holloway
Vanessa Ann Horack
Brandy Marie Howell
Erik Hull
Hunter M. Hull
Montana Jade Icenogle
Ainhoa M. Idoate
Brendan R. Jay
Tera Johnson
Tyra Johnson
Olivia Marie Karwoski
Amaya Kastner
Riley Alan Kemp
Dylan Klein Jr.
Chad C. Krause
D'marco Robert Land
Gabriel L. Lathrop
Thea R. Lee
Christine Elizabeth Lees
Brandon Ryan Lilly
Zachary Thomas Lindstrom
Ryan James Lynch
Paul Willis Macsteves
Kyla Marie Melland
Eliska Michalcikova
Aaliyah S. Moon
Bailee Ann Murray
Kyle Ness
Sarah D. Neu
Joshua A. Peruch
Katherine Petrie
Blaine Robert Radtke
Lucas M. Ray
Talyn R. Richard
Travis Rintamaki
Daniel Steven Robertson
Keilani Renee Rystedt
Derek Harlee Schneider
Susanna Kathleen Spangler
Katie Lynn Stoddard
Tierrany A. Trudell
Danae E. Vachal
Daeton Jack Vickroy-Roselle
Reyanna S. Wezell
Jacqueline Marie Williams
Austin Wirtz
Dean's List
Jocelyn Albert
Joel C. Anderson
Michael Alfeche Apolis
Wade J. Auger
Brett Nolan Bantle
Sydney Beck
Kinsley Nicole Bendixson
Meghan LeeAnn Blaney
Matthew D. Bramblee
Mindy R. Brower
Camryn Jaye Brown
Kaylyn Marie Burton
Natasha T. Calderon
Kaitlynn M. Campbell
Gabriella A. Capasso
Elizabeth A. Carl
Christina Nichole Chancellor
Parker R. Collett
Oluwanifesimi P. Dada
Corbin M. Davis
Marc Anthony Demarco
Tianna R. Earle
Cameron Allan Eslinger
Dawn M. Fisk
Garrett G. Flaagan
Andrea F. Green
Kura Deehan Grindeland
Treyten Richard Guptill
Sarah Amanda Hall
Tawnya L. Hammond
Erika K. Hanson
Morgan F. Harper
David Carroll Hollyday
Katelyn Marie Hoppe
Luisa Hoyos
Joslyn L. Invernon
Benjamin Carter Jellison
David Jacob Leonard John
Chelsey Michele Johnson
Jaycee T. Jones
Nathan Gregory Jones
Jordan J. Kellier
Jordan Walter Eric Kelly
Shane Arnold Kemnitz
Makenzie Paige Kempley
John M. Koronka
Kira J. Kristjanson
Samantha Marie Krogfoss
Nathan James Lafavor
Hannah Marie Landro
Alan J. LaRocque
Drayke D. Laveau
Victoria A. Levno
Alleah Joann Macsteves
Nancy Maldonado
Naomi M. Mata
Colette Michelle Mattila
John Newlyn Melby
Aden M. Merk
Erin Jonae Moe
Samantha Mollenbeck
Nichole Eleanor Murdoch
Kobee J. Murphy
Anel E. Navarro
Sara Ruth Nelson
Bryce Everett Neu
Alejandro Martin Olivera
Sam S. Olson
Holly Marie Pennington
Gabrielle Marie Perkins
Luca Maxime Perret
Jack W. Peurrung
Abby Leigh Powell
Megan M. Robbins
Jeremy Luis Rosaly-Snyder
Merlain Saint Charles
Lexie L. Selting
Tiffany M. Sewald
Morgan MacKenzie Stebbins
Ryland Tylor Stillwell
Martha E. Stow
Dalton Nathan Tangedal
Ashley E. Thornton
Kaytlin Jean Tibor
Rachel A. Urie
Katelyn Way
Brooke Skylar Wetzstein
Jacob Ryan Thomas Wilson
Braylea Wyrick
For more information, please visit www.willistonstate.edu, call 701.774.4200, or stop by 1410 University Avenue, Williston, ND.