31 Jan

WSC in Arizona Event Canceled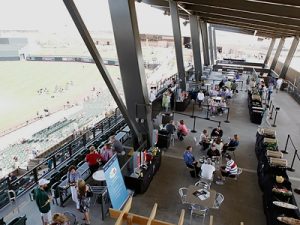 EDITED 3.12.2020 | We regret to inform you that the WSC in Arizona event has been canceled. Today, the MLB announced the suspension of all spring training games and a delay to the start of the 2020 regular season due to the coronavirus (COVID-19).
For questions, please contact the WSC Foundation at 701.572.9275 or kim@wscfoundation.com
For additional details on the MLB's decision, please read: https://atmlb.com/2TLOCes
WILLISTON, N.D. – Batter up snowbirds! The Williston State College Foundation will host its third annual gathering in Arizona on Wednesday, March 18, this time at Salt River Fields in Scottsdale, AZ for a Colorado Rockies vs. the Oakland A's baseball game.
Join WSC Foundation's Terry Olson and Hunter Berg and Williston State College President Dr. John Miller for a fun evening out at the ball game.
The party begins at 5:30 p.m. followed by the first pitch at 6:40 p.m.
"Since March is traditionally filled with baseball activities in Arizona with Cactus League and major league play, it made sense to organize this year's event around America's greatest pastime," explained Dr. John Miller, WSC President. "The event will be at a new venue, the atmosphere more relaxed. After all, who doesn't want to chat with friends while in the background mitts pop and the crack of the bat rings out loud and clear?"
Tickets for this event are a free-will donation and include access to the WSC-exclusive party deck at Salt River Fields, bottomless buttered popcorn, steamed hot dogs, flame-grilled Angus burgers, and more. Alcoholic drinks will be available for purchase.
All friends, alumni, and supporters of WSC, Williston, and the surrounding area are welcome!
Follow these steps to attend this year's event:
Step 1: Confirm your spot by singing up with the WSC Foundation at 701.572.9275 or kim@wscfoundation.com.
Step 2: Tickets are a free-will donation and donations can be made in advance by mail or at the game. Please make checks payable to the WSC Foundation and send to PO Box 1286, Williston ND 58802. A limited number of tickets are available.
Step 3: Pick up your ticket(s) at will-call when you arrive at the game (must have photo ID).
In addition to the WSC Foundation, this event is sponsored by First International Bank and Trust and Triangle Electric.
For additional information on this event, please contact the WSC Foundation at 701.572.9275 or kim@wscfoundation.com.
For more information, please visit www.willistonstate.edu, call 701.774.4200, or stop by 1410 University Avenue, Williston, ND.