02 Mar

Sparks Fly: Dickinson State offers welding courses for students and community members

Written by Amanda D'Aniello, a senior at Dickinson State University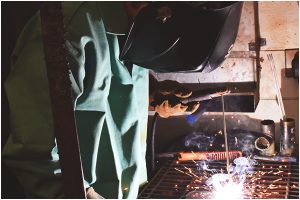 I wasn't wandering aimlessly around the Dickinson State University (DSU) Agriculture Building long before adjunct instructor Mr. Ben Krebs pulled me into the room 107 workshop. Inside, students leaned around the scrap metal pile, talking shop before class. I could tell they were excited to get to work. As class began, the students began gearing up – close-toed shoes, denim pants, fire-resistant jackets, and, most importantly, glasses and a helmet to protect their skin and eyes from the sparks that were about to fly.
Instruction depends on the day, they told me. Mr. Krebs assigns them projects that they work on independently and he checks in to help them along, as needed. Each week on Tuesday night, the DSU students spend three hours in class from 6 to 9 p.m. learning techniques, equipment, and standard safety procedures. Outside of class, they're required to spend 20 hours on their projects throughout the 16-week semester.
The welding class that I attended is included in Dickinson State University's new dual mission offerings. Long term, the plan is to provide continuing education, certification, and recertification to existing welders in the community, and help to fill a gap by training employable industrial welders in the state.
The University is also considering the addition of two new welding programs that could be proposed in the near future – a one-year certificate and an associate's degree.
Dr. Chip Poland, chair of the Department of Agriculture & Technical Studies at DSU, often asks himself, "How do I create new welders?" He explained to me the shortage of welders throughout the state. "Certainly manufacturers have come to the table. There is a desire and a need." And this desire was absolutely reflected in the students I spoke to as well. Many of them are farmers or ranchers who wanted to pick up the necessary skills to patch broken equipment or tools. Others were considering a career in welding and viewed it as a great, and lucrative, opportunity.
One student went so far as to say, "I wasn't coming [to DSU] because [DSU] didn't have welding but [the concept of a program] changed my mind." Now, he's enrolled in DSU's one-year Farm and Ranch Management certificate, and possibly an associate's degree in Agricultural Business Management, while taking the welding classes that are currently available. Like many of his classmates, this student wanted to continue playing football while learning a skill that would help him on his family farm, and also professionally.
"There are a number of students who want to participate in sports at the collegiate level, but their true passion is in welding," Dr. Poland shared, and having a degree option would allow them to do that. There are other benefits to this course, too, explained Dr. Poland. A college degree is a chance to "develop the whole person" along with "some softer skills that business tells us they'd like employees to have – communication, leadership, critical thinking, and working with others."
It is Dr. Poland's hope that by providing these extended degrees, students will leave better prepared for the job market, and prepared in case of a career-ending injury, or a massive change in the job market. By the end of the program, students will be able to say, "I'm not just a welder, I have a set of skills to do a variety of things."
In the meantime, sparks will continue to fly (behind heavy protective curtains) in the Dickinson State Agriculture Building. The students will continue learning the basics of welding, and many will go on next semester into a more advanced, and specified course. Without question, this experience will open doors for the students participating whether that be in industrial work, manufacturing, farming, or ranching. The future these students choose is up to them!