18 May

WSC to reopen after Memorial Day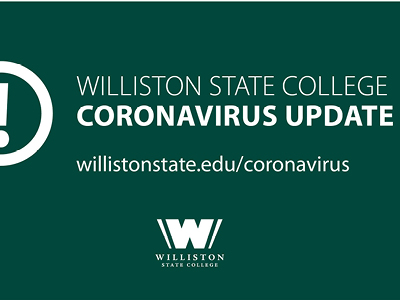 WILLISTON, N.D. – The following is an update from Williston State College president, Dr. John Miller, on WSC's response to the coronavirus (COVID-19):
Dear Campus Community:
In support of and following recommendations for North Dakota's "smart restart" return to general operations, WSC staff members will return to campus for work beginning Tuesday, May 26th.
This will allow current and prospective students to receive direct assistance from WSC staff for the application and registration process, financial aid, housing, and the bookstore.
All campus visitors need to be aware of the following:
Students and visitors will be seen by appointment.
Walk-ins will be accommodated as staff become available and traffic managed when visitors enter the main entrance to Stevens Hall, based on social distancing best practices.
All campus visitors are encouraged to wear PPE. Disposable masks, hand sanitizer, and gloves will be available for campus visitors. View the CDC Guidelines for a safe workspace for more information.
If office space cannot accommodate a 6-foot separation, meeting areas will be made available in the Learning Commons, Business Office conference room, and/or designated classrooms.
Due to on-going campus construction and summer cleaning activities, some areas of campus will remain restricted to campus visitors. These restricted areas will be identified for the benefit of all campus visitors.
TrainND Northwest is currently delivering safety training in-person and via distance learning from TrainND Northwest facilities. TrainND Northwest will continue to work closely with business partners and employees to ensure the safety of trainers and trainees.
Students and visitors are encouraged to contact WSC and TrainND Northwest by phone or email to set up campus and training appointments. We are here for you.
As always, I thank you for your continuing patience and cooperation. The Teton Community is strong and resilient, and I know we will all make it through this time together.
Be smart, be safe, and stay healthy!
Respectfully,
John Miller, Ed.D.
President
Williston State College
WSC encourages the community to monitor the WSC Facebook page (@willistonstate) and dedicated website page willistonstate.edu/coronavirus for updates.
TrainND Northwest encourages the community to monitor the TrainND Northwest Facebook page (@trainndnorthwest) and website willistonstate.edu/trainnd for updates.
For more information on this message, please contact:
Dr. John Miller, President | 701.774.4231 or john.s.miller@willistonstate.edu
Kenley Nebeker, Regional Director of Technical Programs & Training | 701.713.3780 or kenley.nebeker@willistonstate.edu  
To contact WSC Admissions, please email wsc.admission@willistonstate.edu, text 701.595.7389, or call 701.774.4200.
To contact TrainND Northwest, please email safety.training@willistonstate.edu or call 701.572.2835.
For more information, please visit www.willistonstate.edu, call 701.774.4200, or stop by 1410 University Avenue, Williston, ND.