03 Jun

Spring 2020 Dean's and President's lists released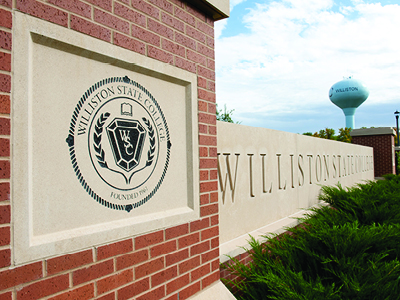 WILLISTON, N.D. – Of the 1,190 Williston State College students enrolled in Spring 2020, 168 were named to the President's and Dean's Lists.
"Being named to these lists is a great honor that students have worked very hard to earn," emphasized Jen Nebeker, Registrar and Research Analyst. "It reflects their dedication to investing not only in their education but also in themselves!"
Students who earned a 3.8 grade point average (GPA) or higher while enrolled in twelve or more credits for the semester are named to the President's List.
Students who earned a 3.5-3.79 GPA while enrolled in twelve or more credits for the semester are named to the Dean's List.
"Williston State College has remarkable and outstanding professors and I am fortunate to have the opportunity to have these professors teach and mentor me," explained current Licensed Practical Nursing (LPN) student, Andrea Green. "This has led me to hold the great distinction and honor of the Dean's List. The enjoyable classes have made academics exciting and being on the Dean's List is meaningful as it shows me my hard work pays off. "
Following graduation from the LPN program this summer, Green will continue this fall in the Associate Degree Nursing Program. Students on the President's and Dean's lists are also eligible to be part of WSC's Alpha Rho Iota Chapter of Phi Theta Kappa (PTK), a national honor society. To conserve eligibility, each student must maintain twelve credit hours per semester and keep an average of 3.30 GPA while attending WSC.
Congratulations to the following WSC Spring 2020 President's and Dean's Lists recipients!
President's List
Alexander Alexandrou
Joel C Anderson
Justin D Anderson
Clara S Arnegard
Dorothy Alida Arnegard
Angela Karyme Ayon Jaime
Brett Nolan Bantle
Hannah Bassett
Morgan Christine Bosley
Bailey R Brachtenbach
Shane Buxbaum
Debora A Canales  
Cody W Christianson
Tyrra Clinkenbeard
Raegan L Conlan
Rylee Conlan
Emilie A Corley
Jordan N Ditch
Brady Everett Doeden  
Darien Bryce Dunn
Kandyce G Edwards
Rio Shae Elliot
Faith M Faldalen
Audrey E Felix
Dawn M Fisk
Hamish William Johnson Foreman
Bryce I Franklin
Hannah Noel Gackle
Alexis Mathia Gunderson  
Rachelle Marie Hamilton
Tawnya L Hammond
Kellie S Hansen
Stephani R Haun
Katelyn Marie Hoppe
Vanessa Ann Horack
Brandy Marie Howell
Justin Howell
Luisa Hoyos
Erik Hull
Montana Jade Icenogle
Ainhoa M Idoate
Chelsey Michele Johnson
Olivia Marie Karwoski
Amaya Kastner
Eric J Keyes
Stormy Dayenne Kosel
Jordan Kulczyk
Christine Elizabeth Lees Paul
Willis MacSteves
Levin Meier
Kyla Marie Melland
Samantha Mollenbeck
Aaliyah S Moon
Bailee Ann Murray
Sarah D Neu
Hannah E Nix
Alejandro Martin Olivera
Luca Maxime Perret
Joshua A Peruch
Maria Eduarda Petrazzini De Andrade
Katherine Petrie
Kaylee May Pitman
Jade Elizabeth Prill
Blaine Robert Radtke
Carolyn R Reinert
Megan M Robbins
Daniel Steven Robertson
Christian B Rodgers
Elise E Romo
Keilani Renee Rystedt
Merlain Saint Charles
Cameron Rai Seader
Brittany Melody Doris Shellum
Alexis Ann Smith
Susanna Kathleen Spangler
Morgan MacKenzie Stebbins
William J Steinley
Katie Lynn Stoddard
Jennifer J Sult
Taylor R Swenson
Kristel Zarah Eunice B Tee
Carson W Ullmer
Danae E Vachal
Daeton Jack Vickroy-Roselle
Brooke Skylar Wetzstein
Hailee J White
Dean's List
Michael James Anfinson
Isaac Scott Arnson
Francis Kwadwo Arthur
Laia Balcells Niubo
Haylee Lynne Barta
Lindsey Taylor Beech
Kinsley Nicole Bendixson
Peyton E Beyerle
Holly M Bouchard
Camryn Jaye Brown
Kaylyn Marie Burton
Natasha T Calderon
Payton A Capullo
Corbin Davis
Emily Jo Donnelly
Sessi Dossou-Gouchola
Teddi Joann Dwyer
Tianna R Earle
Dilan Erkal
Justice Joy Ferrell
Alyx Payton Fisketjon
Yosselint Flores
Morgan R Folstad
Kobe A Fredland
Nadia Claret Garcia Gonzalez
Kennedy Marie Gerbig
Trey M Girard
Martin P Gisiger
Jonathan Gonzalez
Yarenci Darlet Gonzalez
Andrea F Green
Treyten Richard Guptill
Madison Kathryn Hammer
Taylor N Heape
Madison Nichole Heupel
David Carroll Hollyday
Lydia G Huhta
Hunter M Hull
Brett David Jacobs
Brendan R Jay
Benjamin Carter Jellison
David Jacob Leonard John
Allison M Jones
Jaycee T Jones
Dale James Kjorstad
Brady Lee Klassen
Samantha Marie Krogfoss
Alan J LaRocque
Gabriel L Lathrop
Brandon Ryan Lilly
Jadyn NeCole Linnehan
Carson Lee Lukenbill
Grace Lupumba
Alleah Joann Macsteves
Colette Michelle Mattila
Tianna NA Mcgorman
Eliska Michalcikova
Annie M. Michels
Amanda Jo Morris
Amber L Mueller
Carmel Ashley Nealey
Ryan Taylor Nelson
Kyle Ness
Sam S Olson
Travis Rintamaki
Andrew C Segovia
Jerry Sherman Smith
KateLynn R South
LaTosha Nicole Sparks
Ryland Tylor Stillwell
Maria Del Carmen Stone
Martha E Stow
John Frederick Sullivan
Natalie R Thome
Keiona LaRee Trimmer
Rachel A Urie
Hillary R Walker
Marissa K Wendt
Damien Kelly Weyrauch
Jacqueline Marie Williams
Michelle T Yeiter
Taleah Chanel Zaugg
For more information, please visit www.willistonstate.edu, call 701.774.4200, or stop by 1410 University Avenue, Williston, ND.