10 Jun

WSC welding raffle postponed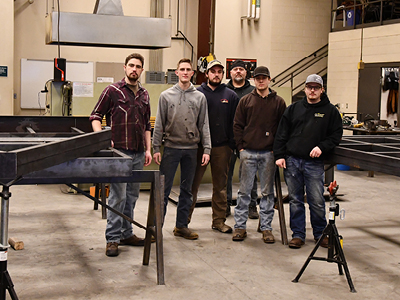 WILLISTON, N.D. – As a result of COVID-19 and its impacts on the Spring 2020 semester at Williston State College, the annual Welding Raffle was moved to Tuesday, September 22, 2020.
The raffle item, a 12,000lb capacity 12′ by 6'4″ hydraulic dump trailer, was originally scheduled to be built and raffled off on Monday, May 12 after being displayed in the annual Band Day parade the preceding weekend.  
Instead, the trailer will be displayed in the fall-scheduled Band Day on Saturday, September 19 before being raffled off the next Tuesday at 12:00 p.m. in the Western Star building (CTE) on the WSC campus.  
Second year WSC Welding students, under the direction of WSC Welding Instructor, Tim Delorme, were nearing completion of the trailer before the semester ended.  
"All parts have been fabricated and will be fastened to the trailer and the trailer will be welded out," explained Delorme. "The new batch of second year students will make the finishing touches this fall."  
WSC Welding students have built and raffled off three trailers and four smoker/grills since 2017.  
In the past four years, just shy of $35,000 has been raised. Proceeds raised from the raffle go to the WSC Welding Program for materials and to cover class activities like program-related field trips.    
Raffle tickets are available and are $25 each.  
Only 1,000 tickets are available.  
If interested in purchasing a ticket, please contact Delorme at 218.556.0942. Tickets will be available until sold out or until Tuesday, September 22 prior to the drawing at 12:00 p.m.  
Winners do not need to be present to win. Purchasing a ticket is not a charitable donation.  
"COVID-19 definitely disrupted lives in many ways," stated Delorme. "Let's do what we need to get past this and get back to what we do best, WELDING."  
If interested in purchasing a raffle ticket or learning about the Welding Technology Program, please contact Tim Delorme, WSC Welding Instructor, at 218.556.0942 or timothy.delorme@willistonstate.edu. 
For more information, please visit www.willistonstate.edu, call 701.774.4200, or stop by 1410 University Avenue, Williston, ND.