11 Jun

Teton Athletics' truck raffle upcoming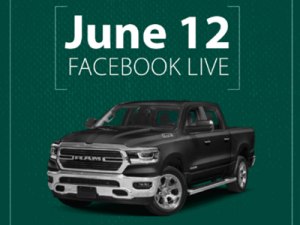 WILLISTON, N.D. – Originally scheduled for Saturday, March 28, and postponed over concerns of COVID-19, the Teton Booster Club's annual truck raffle will be held tomorrow Friday, June 12.
Having received permission from the Attorney General's office to extend the drawing, the anticipated raffle will be held via Facebook live at 6:00 p.m.
This year's grand prize is a 2019 Ram 1500 Quad Cab.
Money raised from the raffle helps improve Teton athletic programs and builds upon the successes of previous years.
Please monitor the Williston State Tetons Facebook page (@wsctetons) to watch the raffle live.
Follow the Williston State Tetons (@wsctetons), the WSC Foundation & Alumni Association (@wscfaa), and the Williston State College Teton Athletics Boosters on Facebook.
For questions, please contact Hunter Berg, Alumni and Athletic Development Director, at 701.220.8445 or hunter.berg@willistonstate.edu.
For more information, please visit www.willistonstate.edu, call 701.774.4200, or stop by 1410 University Avenue, Williston, ND.