23 Sep

Investiture of Dickinson State University's 13th president to be held Oct. 9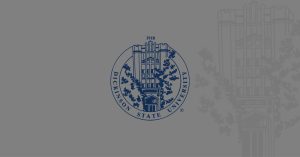 Dickinson State University (DSU) will celebrate the investiture of its 13th president, Stephen D. Easton, J.D., during a formal ceremony Friday, Oct. 9, 2020, at 9 a.m. MT in Dorothy Stickney Auditorium.
Easton began his appointment as interim president Nov. 14, 2019. During a State Board of Higher Education meeting held March, 26, 2020, Easton was named the 13th president of Dickinson State University.
"The Dickinson State University Blue Hawk family, including alumni, students, faculty, and staff is proud to host an investiture ceremony to formally welcome Stephen Easton back to Dickinson State as our president," said Dr. Debora Dragseth, provost and vice president of academic affairs at DSU. "In the short time that he and his wife, Marivern, have been in the community, their energy, enthusiasm, and eagerness to engage is evident."
President Easton, who graduated summa cum laude from DSU in 1980 with a bachelor's degree in accounting and a minor in business administration, has a strong personal connection to the University as the third generation of his family to study at the "College on the Hill."
After earning his undergraduate degree at DSU, Easton enrolled in Stanford Law School where he earned his Juris Doctorate in 1983. Easton practiced law for more than 20 years before returning to higher education as a professor and administrator.
The investiture ceremony is open to the public and all are welcome to attend.