05 Nov

Jade Boote: DSU student and selfless caregiver

Written by Kayden Heckaman, DSU Student Intern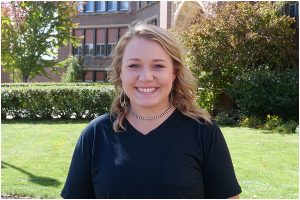 Many things have changed this year in our society with the ongoing COVID-19 pandemic: education has shifted to a hybrid model of delivery, social distancing is being observed, and face coverings are being worn in order to keep those who are at risk of complications safe. For some, this has become a new "normal."  
One Dickinson State University (DSU) student is displaying a selfless act of kindness by voluntarily studying off-campus this semester, taking her classes online and caring for those that are at risk to have serious complications should they contract COVID-19. This student is Jade Boote, a competitive, organized, and hardworking senior from Binford, North Dakota, currently majoring in business education.  
Boote, whose mother is an alumna of the University, joined the flock at Dickinson State for the opportunity to pursue rodeo, as well as study business education. "I love how small the classes are, and that allows the professors to know each student and know most students by their first name," said Boote. "It's like a big family. Everyone knows one another." 
Her decision to take her classes remotely was influenced by what she does for work, by providing home support for a local family. According to Boote, home support, in respect to her client, is taking care of an individual with a special need. "I take her to therapy, pick her up from school, hang out with her at home, go bowling, go to movies or anything her family asks." Boote has been doing home support for her client since she began studying at the University four years ago, and she believes that they are happy to have her around. Boote decided that it was in the best interest of her client and client's family for her to study from home during the semester and do everything she can to prevent herself from contracting and spreading COVID-19.  
Though she knows it was the best decision for her client, Boote misses being on campus interacting with her friends, classmates, and professors in person. Not being physically there in class or having the opportunity to come in early or stay late to ask questions is challenging and is much different when you have to do it from afar via email. However, Boote believes that the University giving students the option of being able to connect remotely is "awesome" and that "it really has made it easier for a lot of students, including [herself]."  
While she strives to keep up with her classwork and care for her client, she still finds time to do other things she enjoys. When she is not doing classwork, which has been very time-consuming for her this semester, she can be found riding her horses or roping. She has also been able to keep in contact with her friends. She also said that if everything was to return to how it was before the pandemic, she would want to travel. "Sounds generic, but I would take my horses and head to Arizona to rope," said Boote.  
Selflessness  /ˈselfləsnəs/ n. Concern more with the needs and wishes of others than with one's own.  
Having this trait requires someone to think not only of themselves, but also of those around them. Boote has embraced this value by choosing the health and safety of others over heading back to class in-person. Not all heroes wear capes, but some wear cowgirl boots, and Boote is certainly a hero for the sacrifices she has made for others during this pandemic.